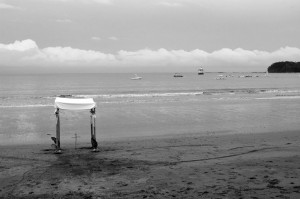 Come, let us sing to the Lord!
Let us shout joyfully to the Rock of our salvation.
Let us come to him with thanksgiving.
Let us sing psalms of praise to him
.
Hello friends!
I pray that you all are having a wonderful Thanksgiving with your close friends & family. Today has been a different one for me… I'm not allowed in the kitchen at all :o)
My family is taking me out to dinner as a way to thank me for all the cooking I do. We rarely go out so it is a big treat for all of us. We found a nice little restaurant that raise their own food organically and its located in the cloud forest of San Ramon… should be pretty. We found out about the place a while back and have been wanting to check it out. I will tell you guys all about it later and hopefully it will be a good experience… and yes, I'll share pictures too!
Most important, I was blessed to spend the morning reading my Bible about thankfulness, joy & peace. It was very refreshing, uplifting and a great reminder for me that everyday is a day of thanksgiving… not just today! After reading several different scriptures, I quickly realized that when we step out with thankfulness… joy and peace will follow. It reminded me that God desires for me to live in constant state of thanksgiving… everyday… every moment… to thank Him for the air we breath, the colors we see and the life we live. We don't deserve it, but it is freely given to us. Wow.
Now, I need to go get ready!
For the Lord is a great God,
a great King above all gods.
He holds in his hands the depths of the earth
and the mightiest mountains.
The sea belongs to him, for he made it.
His hands formed the dry land, too.
Come, let us worship and bow down.
Let us kneel before the Lord our maker,
We are the people he watches over,
the flock under his care.