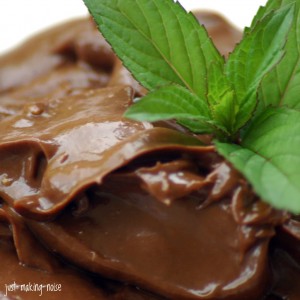 What if I told that I am about to share with you a sweet chocolate pudding that is raw, rich, wholesome, creamy, dairy-free, egg-free, wheat/gluten-free and made with
avocados
…
Hmmm, sounds good… wait!
Avocados?!
Yep, avocados! It is over the top creamy-licious and so good for you. This is one of the few ways I can get my daughter, Naomi, to eat avocados. Oh yeah, she loves this stuff. The best part is that I can make this as a quick sweet snack for her and know that she is getting good fats and is it so nutritious. Another bonus… if you are invited to a party and asked to bring dessert. You can whip this together and dress it up with some peppermint leaves (like my pictures). This will surely be a crowd-pleaser… just don't tell anybody too soon. If you tell too early, then some might not try it because they are turned off by the idea of eating avocados with chocolate.
I know, I know
… it will be very hard not to stay anything, but gotta give them time savor it and decide if they like it or not.
Here's a good example…I made this for my sister while she was here visiting and she was VERY skeptical about it. She loves chocolate, but was put off by the idea of mixing chocolate with avocados… BUT it won her over after the first bite. She could not believe how good it was and loves knowing that it is a wonderful, healthy dessert to satisfy her sweet tooth. She now makes it for herself whenever she needs a little chocolate comfort :o)
The
avocado
,
also known as palta or aguacate (spanish), butter pear or alligator pear
,
is a fruit
. So, it makes perfect sense to use it as a dessert. Why not? It is naturally sweet, creamy and yummy on its own with a sprinkle of sea salt.
Read here
the 4 reasons that makes it a fruit.
I've seen a couple different versions of this recipe, but I made some changes base on what I had available in my kitchen and what I like. You can make this vegan by using maple syrup or coconut sugar.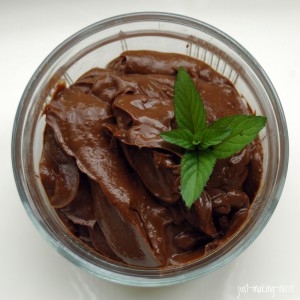 Aquacate del Chocolate (Chocolate Avocado)

1 ripe banana

1/4-1/3 cup raw honey

1/2 tsp. vanilla extract

2 avocados, mashed

1/4 cup, plus 2 Tbsp. unsweetened cocoa powder

1/4 cup water

Process banana, raw honey, vanilla in a food processor (or blender) till smooth. Add the avocados, cocoa powder and process till creamy. Scrape down the sides a few times with a rubber spatula. Add the water and process briefly. Store in a sealed container. It will keep for three days in the fridge or two weeks in the freezer. Serve chilled or at room temp. (tastes best chilled!).

TO DOUBLE IT: Increase the amounts to 1 1/2 bananas, 1/2-3/4 cup raw honey, 1 tsp. vanilla, 4 avocados, 3/4 cup cocoa powder and 1/2 cup water.