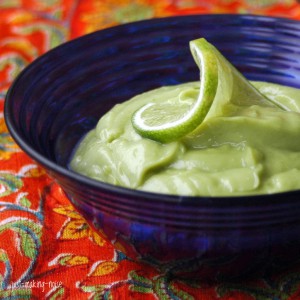 You all know that I have been overflowing with organic limes this past several weeks. We've been using them in our food, water, tea and desserts. I've been on the lookout for sweet recipes to use up all our limes, but haven't really found much that excited me.
So, while we were in the states, my sister gave me a fun raw food cookbook and there I found a delicious looking lime mousse recipe. Many of you probably remember my Aquacate del Chocolate and many have left me messages raving about it. Well, I am excited to share with you a raw and deliciously tart dessert made with avocados, again!
I just love how the avocado never fails to give such a creamy texture when you need it. Again, if you are making it for friends or family… DO NOT tell them what the main ingredient is! Let them savor it and then surprise them.
The mousse is surprisingly rich, considering that there is no butter or eggs in it. So this is great to serve it with some plain sweet cookies or you can just enjoy it alone. I made a few changes based on what I had in the kitchen and my tastes. Adjust the sweetness level according to your likeness… I actually like this on the tart side, but the rest of my family liked it sweeter.
This wonderful mousse is dairy-free, egg-free, sugar-free, nut-free & wheat-free… basically, it's vegan-friendly (except the honey).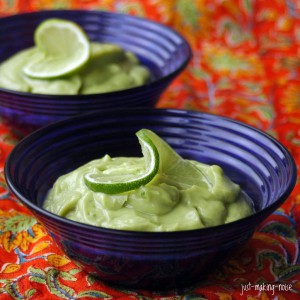 5 ripe avocados, peeled & pitted

1/2 cup limes juice

1/4 cup packed lime zest (about 6 – 8 limes)

1/4 – 1/3 cup raw honey

2 Tbsp. coconut oil

2 tsp. vanilla extract

1/2 tsp sea salt

In your food processor (or blender), process all the ingredients until smooth. Scoop into a container and store in fridge to chill. Serve alone or with plain sweet cookies.
Oh! Before I forget, most of you probably notice my Foodista Featured Blog badge on the right sidebar. Last week Melissa (Editor of Foodista) left me a message on my blog… sharing with me the good news that they've selected me as their Foodista Food Blog of the Day for tomorrow, August 20th! My post for the Mango Cranberry Sherbet will be featured on the Foodista homepage for 24 hours. I am thrilled and honored! Thank you Melissa and Foodista!!
As usual… enjoy the mousse and let me know what you think!