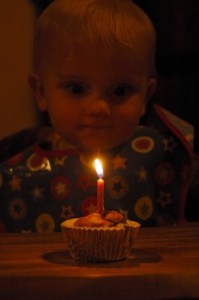 Happy Birthday little man!


Here he is… eating a banana cupcake made with coconut flour and sweetened with bananas, stevia & dates. So simple & good! The recipe came from Elana's Gluten-Free Cupcakes
. The only thing that was missing was whipping cream… didn't have enough cream to make any, BUT I made homemade ice cream (maple cinnamon), of course! ;o)


He LOVED his cupcake, but found the ice cream too cold. LOL!


I know I said I would share the birth story today, but it was a full day for me and I ran out of time. So, l'll have to do it later! Thanks for your patience!