Honey-sweetened Mango Curd (w/ dairy-free option)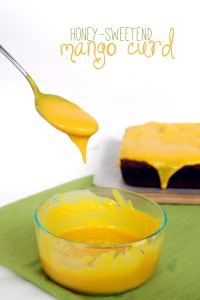 1½ cups mango puree (about 1-2 mangoes)
3 large eggs or 6 egg yolks
⅛ cup honey
4 Tbsp fresh lime juice
¼ cup of butter or coconut oil
In a medium saucepan, whisk together mango puree, eggs, honey & lime juice until smooth.
Add in slices/chunks of butter (or coconut oil). Cook over medium heat and whisk until smooth.
Continue to cook & whisk until the mixture thickens and you start to see bubbles popping on the surface.
Remove from heat and pour into a fine sieve set over a bowl. Gently stir the curd through the sieve.
Cover the bowl and store in the fridge for several hours to thicken. Should keep for about one week in the fridge.
Recipe by
Just Making Noise
at https://just-making-noise.com/honey-sweetened-mango-curd-w-dairy-free-option/