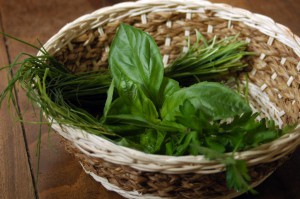 These mouth-watering "egg pancakes" is becoming our favorite way of preparing our eggs.
So full of flavor and delicious as it is or as a open-face sandwich anytime of the day! All the herbs came from my potted herb garden… they are doing great! Especially the basil.
I found this recipe in my Nourishing Traditions cookbook. I didn't follow the recipe exactly, but close enough. I used kefir instead of piima cream… it gives a wonderful creamy texture.
Any of your favorite herbs will be great in this and top with fresh tomato brings it all together.
I put the fritatas on toasted bread with homemade mayo, then I topped it with fresh tomato, fresh goat cheese, extra virgin olive oil and fresh herbs.
I love it! It has such a garden brunch feel to it. I even made these as sandwiches for our flights to and from Costa Rica…yeah its that good :o)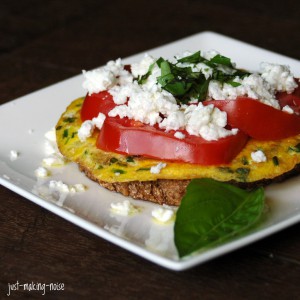 Four Herb Fritatas




3 eggs

1 Tbsp. each fresh chives, basil and thyme, chopped

1 tsp. parsley, finely chopped

2-3 Tbsp. freshly grated Parmesan or Goat cheese

2 Tbsp. kefir

sea salt & pepper

Olive oil or coconut oil




Mix eggs with herbs, optional cheese, kefir and seasonings. Heat a small, cast-iron skillet coated with oil. Pour 1/4 cup egg mixture into the pan and tilt it to spread the mixture. When the fritata is set, flip over to lightly brown the other side. Transfer to a plate. Keep it warm by putting a cotton towel over it or in a warm oven while preparing the rest of the fritatas.
Remember, all my recipes are now printer friendly. Just click on the green button below and enjoy them in your kitchen!