Hello everyone! How are you all doing? We are doing great! We have been busy de-cluttering, selling our big things, giving away things, packing and getting ready to move to Honduras. I can't believe we will be driving across part of Costa Rica, through Nicaragua and part of Honduras to our new HOME SWEET HOME! Please keep us in your prayers for safe traveling and good health for all of us. We need… no, we WANT your prayers!
Now, today I am going to share my first two videos showing how I make the 'Soaked & Ready' Oats. One of my readers, Jessica, emailed me asking if I could show the process step by step with pictures to make sure she is doing it right… I was more than happy to help her out, but decided a video would be easier, fun and more personal! Hope this helps you out, Jessica!
Below is the recipe and I made a few changes now that I've been making this on a regular basis. I have found the oats to be better tasting & less sour when I drain them before drying them. They also come off the wax/parchment paper much easier along with using coconut oil. Also, this was my first time drying the oats in the oven because Jessica said she uses her oven to make the S&R Oats. I wanted to see how mine came out so I could better help her and those who don't own dehydrators.
Hope you enjoy the videos!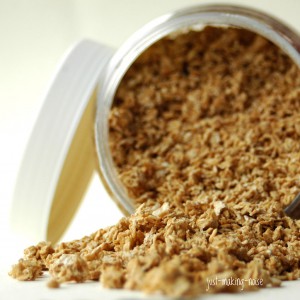 'Soaked & Ready' Oats

4 cups rolled oats (NOT instant)

4 cups filtered water

5- 8 Tbsp. whey, lemon/lime juice, kombucha, kefir or yogurt



Warm 2 cups of water in a saucepan (don't use a microwave) till warm to touch. Do not let it boil! Add in 2 cups of tepid water and set aside.


Pour the oats into a large glass bowl and gently mix in the water and acid medium (whey, etc..). Cover the bowl with a towel or plate & let it sit overnight in your oven or on your counter (wherever you have space).


Important: Let it soak for 12 – 24 hours… 12 hours is okay, but I always soak mine for 24 hours to reduce the phytic acid as much as possible.


Drain the oats in a sieve for about 5-10 minutes. While the oats are draining, get your parchment/wax paper ready & rub coconut oil (or other) on your parchment/wax paper.


Spread the oats on oiled parchment paper in your tray or cookie pan (for oven drying) and put in dehydrator set on the highest temp (if you have that option… I don't, so I just turn it on) until completely dry. It can take anywhere from 6 to 24 hours… depending on your dehydrator and the weather. You can dry the oats in your oven set on the lowest temperature. The lowest my oven went was somewhere between 200 – 250 F and it came out wonderful!


When the oats are dried, you will be able to break them into chunks. You can break them up more with your hands or put the chunks in your food processor or blender and pulse until coarsely ground (kinda like oatmeal flakes). Don't grind it too fine unless you want oat flour.


Pour the oats in a sealed container and store in your fridge or in a cool, dark place.

Ta-daaa! There you go… you have 'Soaked & Ready' Oats for satisfying your urge to have a quick bowl of cereal, make cookies or whip up some delicious Oatmeal Chocolate Chip Ice Cream! Remember, you can make this however much you want. When I make the S&R Oats for the week, I usually use about 8 cups of rolled oats. Just make sure you add everything up correctly.


Please excuse my nervous deaf accent. Yeah, its my first time and I'm not to fond of video cameras… BUT I did have fun putting this together and hope to do more in the near future!
After making the first video… I thought it would be good to show the great results of the oats that were dried in the oven. They came out perfectly crunchy and crumbling. I didn't even need to put them in my food processor! Now, I know for sure that using the oven works just as well as using a dehydrator. Oh, don't mind my crazy hair… I had just gotten out of the shower! LOL!
Now, do you have a particular recipe or food preparation that you would like me to do a step by step video of? Please let me know… even if I don't have it on my blog yet. I am open to ideas!
Hugs,