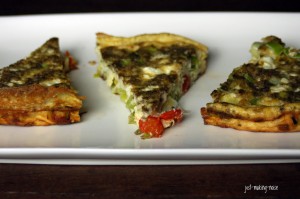 Lately, I've been making fritatas at least once a week and find them delicious, easy and a good way to spice up the morning's usual "eggs for breakfast". I love how I can freely use whatever herbs, veggies and spices I want to make this a frugal and nourishing breakfast (lunch & dinner, too!).
Here I want to share with you this yummy combination of leeks, tomatoes & dried rosemary. Leeks have a milder and sweeter flavor then the rest of the onion/garlic family, but contain many of the same beneficial compounds found in the family. The tomatoes are in season pretty much all year round in Costa Rica
(one of the perks of living in a tropical climate)
and are high in Lycopene which has been
found to be protective against a growing list of cancers
. And the rosemary… oh my… I love the sweet fragrance whenever I open the bottle or snip a few fresh springs of rosemary from my herb pots. So relaxing, yet energizing! This well known herb has been used to treat a wide range of ailments, including stomach upsets, digestive disorders and headaches. Rosemary has potent antioxidant & anti-inflammatory agents that protect our bodies' cells from damage by free radicals
and a rich source of vitamin E (alpha tocopherol). No wonder this herb is so delicious!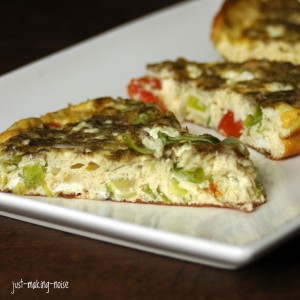 Leek, Tomato & Rosemary Fritata




3 leeks, well rinsed & dried

2-3 cups ripe grape tomatoes, sliced in half

1-2 Tbsp. dried rosemary

2 Tbsp butter

2 Tbsp coconut oil (or olive oil)

6 eggs

1/3 cup cream or kefir

sea salt and pepper

1 cup grated mozzeralla cheese




In a cast iron skillet, saute the leeks & tomatoes in about 1 Tbsp. each of butter and oil until slightly soft. Remove with a slotted spoon. Beat eggs with cream and rosemary. Stir in leeks, tomatoes and season with sea salt & pepper.




Melt the remaining butter & oil in the cast iron and pour in the egg mixture. Cook over medium heat for about 5 minutes until the underside is golden. Sprinkle cheese on top and place under the broiler for a few minutes until the fritata puffs and lightly browns.




Cut into wedges and serve hot.