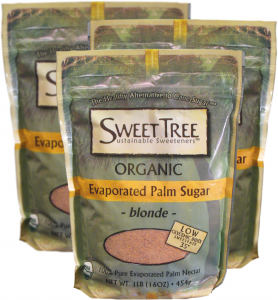 A few months ago I wrote a post about Coconut Palm Sugar and I am loving this sweetener… love its rich, carmel-like flavor and the fantastic nutritional value!
Shortly after I wrote the post… I received 2 bags of Organic Evaporated Palm Sugar from Sweet Tree (Thanks guys!). Of course, I had to do the "spoon test"… I scoop a spoonful of their coconut sugar right out of the bag, put it in my mouth and let the granulates roll around my mouth. Oh wow…my mouth was bursting with light, sweet flavor and I was hooked…



SweetTree™ Organic Coconut Palm Sugar is the only sweetener on the market today, which truly delivers on all aspects of health, transparent equity and traceability.

SUSTAINABLE HEALTH _ SUSTAINABLE PEOPLE _ SUSTAINABLE PLANET

SUSTAINABLE HEALTH

SweetTree™ Organic Coconut Palm Sugar is naturally low on the Glycemic Index (GI), which has benefits for weight control and improving glucose and lipid levels in people with diabetes (type 1 and type 2).
SweetTree™ Organic Coconut Palm Sugars are rated as a GI 35. By comparison, most commercial Agaves are GI 42, Honeys are GI 55 and Cane Sugars are GI 68.
SweetTree™ Organic Coconut Palm Sugars produce slow release energy which sustains the human body through your daily activities without regular sugar "highs" and "lows".
SweetTree™ Organic Coconut Palm Sugar has a nutritional content far richer than all other commercially available sweeteners.
SweetTree™ Organic Coconut Palm Sugar is especially high in Potassium, Magnesium, Zinc and Iron and is a natural source of the vitamins B1, B2, B3, B6 and C.
SweeTree™ Organic Coconut Palm Sugar is a 100% Organic, unprocessed, unfiltered, and unbleached natural sweetener. And contains no preservatives.

SUSTAINABLE PEOPLE

SweetTree Organic Coconut Palm Sugar is 100% produced by smallholder farmers. 100% of the money from growing, harvesting and primary processing of this ingredient stays in the local community.
SweetTree's sustainable supply partner, Big Tree Farms™, works directly with international NGO's in order to maintain transparent, socially equitable supply chains.
Our sustainable supply chain manages direct producer programs in value addition education and practice, market access and small business/cooperative management.
Through market access and production training, smallholder sugar-tappers have risen well above the poverty line and are able to earn an increase in personal income of close to 200% while maintaining a competitive market price as a cane sugar alternative!

SUSTAINABLE PLANET

The Food and Agriculture Organization (FAO) of the World Bank has reported that coconut palm sweeteners are the single most sustainable sweetener in the world!
Organic Coconut Palm Sugars are not produced from the same palm species as is used for the production of Palm Oil.
Coconut Palms produce an average of 50-75% more sugar per acre than Sugar Cane and use less than 1/5th the nutrients for that production.
Tropical palms are an ecologically beneficial tree crop that grows in diverse, wild-life supportive agro-ecosystems, restore damaged soils and require very little water.
Many traditional communities throughout the world consider Coconut Palms the "Tree of Life", as they provide over 100 smallholders accessible products from which they earn their livelihoods. The production of SweetTree™ Organic Coconut Palm Sugar has the single highest potential for lifting these farmers into a better life while creating a net benefit to their surrounding environment.
Of course, I had to try it out in my baking but I really wanted to find something that will allow me to really taste the coconut sugar in such a way that I or anybody will notice it. After looking around, I decided to try the baked custard… a MANGO baked custard. I've never really enjoyed custard before, but thought if I added a fruit to spice up the custard then maybe I would like it. I actually made this several weeks ago when mangos were still in season and now finally posting it! Oh my!
Anyway, this is the first time I've ever made custard and was very pleased with how yummy it turned out. I could taste the coconut sugar very strongly and LOVED how the carmel- like flavor really enchanted the custard. The mango, of course, was a perfect add in.
My hubby loved the flavor but isn't a fan of the texture that is common with custard. Naomi wasn't a big fan either, but Tabi LOVED it and ate the entire portion I gave her. Custard is actually very nourishing and a great dessert for toddlers… full of free-ranged eggs, raw milk, coconut sugar, mangos & so EASY to whip together! Even though it is cooked… it still provides important nutrients and is a great occasional treat. Here's something I read from my Nourishing Traditions book:



Puddings of various sorts are a staple of the English diet. While these rich desserts are traditionally high in sugar, they also contain many ingredients that provide growing children with important nutrients – eggs, whole milk & cream.




Some researchers believe that boiled or cooked milk is actually easier to digest than pasteurized milk. Cooking causes complex proteins to unfold so that peptide bonds become more accessible to digestive enzymes, whereas pasterurization merely denatures large proteins in such a way that they are harder to break down. However, long periods of heat treatment, as in canning and spray drying, result in cross-linking in the protein chain which greatly lowers digestibility.




Both pasteurization and cooking destroy enzymes and lower vitamin availability. Puddings may be fine for an occasional treat but are no substitute for clean, certified, whole, raw milk for growing children. -SWF



Another thing, I made this custard using egg yolks for a richer flavor, but you can make it with whole eggs too. If you decide to go with just yolks… save the egg whites and make some macaroons! If you don't have coconut sugar, you can use raw honey or other sweeteners. I loved the mangos, but if you don't have any of those too or don't like them… simply proceed with the recipe without them and you'll have a traditional custard!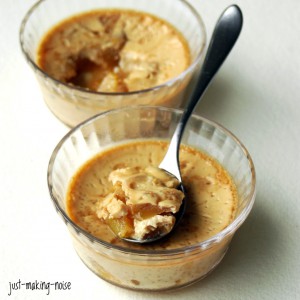 Mango Baked Custard




1 cup whole milk

1 cup cream or whole milk

1/4 cup coconut sugar

5 egg yolks or 3 whole eggs

1 tsp vanilla

1/4 tsp sea salt

1 cup mango, sliced




Warm milk and cream gently over a low flame.




In a medium bowl, beat coconut sugar or choice of sweetener with egg yolks or whole eggs. Slowly add warm milk mixture to the eggs, beating continuously. Blend in vanilla and sea salt. Set aside.




Place sliced mangos into individual custard cups and pour mixture over them.




Place the cups in a pan of hot water and bake at 325 F for about 1 hour or until a knife comes out clean. The mangos make the custard a little wet… so don't overbake!




Chill well before serving.



Now, I saved the best part for last… I love doing that!
Instead of keeping both bags of Sweet Tree Evaporated Palm Sugar… I am going to give one away (Yeah! Another giveaway!). How would you like to try a free bag of Sweet Tree Evaporated Palm Sugar for your Christmas and/or New Year baking?! I'm "hearing" a lot of good response here :o)
To enter… please leave me a "shout" (a.k.a – comment) of what is the first thing you want to make if you win this free bag of Sweet Tree Evaporated Palm Sugar. Also, for a second entry… please follow my blog and/or sign up to receive updates via email.
The giveaway is over on the 16th of December. I will choose the winner via random.org…
Now, if you win… you MUST commit to make that very thing you chose, take pictures and send it to me along with the recipe. If you are not up for that… don't enter AND you don't need to have a blog. If you do have a blog… go ahead a post your yummy treat and email me the link.
Ok? Can you guys do that? I know you can and I'm excited to see what yummy ideas you'll have! Now, chose wisely what you want to make and let the giveaway begin!

Disclaimer:
Sweet Tree provided me with free samples of this product to review, and I was under no obligation to review it if I so chose. Nor was I under any obligation to write a positive review or sponsor a product giveaway in return for the free product.