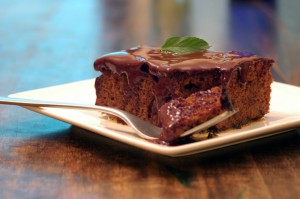 I have a confession to make…
I've kept this recipe from you all for 2 years now…
Why? Well, life happened! Moved to Honduras, no internet for 9 months, pregnant with little man and a year of adjust to the cultural shock all rolled together in the last 2 years.
Will you all forgive me? Will you still love me?
Whew! Glad to get that out in the open.
I am
thrilled to finally get this yummy, moist, rich cake out of my secret files and share it with you all! ;o)
So… yeah, I made this cake back in Christmas of 2009 when we were living in Costa Rica.
I mentioned this cake back when I was doing the Heavenly Sugar giveaway and my friend Katie (who won the giveway)
requested the recipe for this cake. So sorry it took this long, Katie! Thanks for understand ;o)
As most of you probably already know… Tres Leches is Three Milks Cake and is a very popular cake among the Latin Americans. I remember having my first taste of it back when we were missionaries at Rancho Sordo Mudo (located in Baja California).
It was sugary, soggy and milky… yeah, I didn't like it.
I would always try a bite whenever a family would bring their kid a Tres Leches Cake for their birthday… hoping there might be one that I would like. No luck.
So, when I got the Heavenly Sugar packet to review and saw the 2 cans of sweetened condensed milk in the box… I knew exactly what I was going to make.
I started looking around online for recipes, I did not see anything that interested me because I wanted to go for something more unique & healthy (of course!) with the flavor and ingredients.
Found NOTHING… well, I did find a couple gluten-free recipes, but they called for all these different kinds of flours that I don't use and weren't exactly healthy.
I started thinking… what about coconut flour?
The coconut flour is PERFECT because all the eggs it calls for creates a wonderful sponge to absorb the tres leches… YES!
That's how I came up with this unique & healthy Mexican Chocolate Coconut…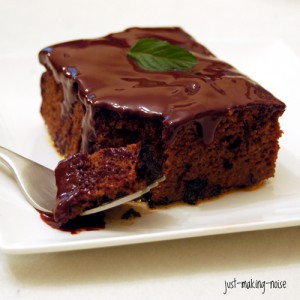 Chocolate Coconut Tres Leches Cake (Gluten-free!)


Chocolate Coconut Cake
3/4 cup coconut flour, sifted
1/4 cup cocoa powder
1 tsp sea salt
1 tsp baking soda
10 eggs, separated
1 cup coconut oil or butter
1 cup raw honey
1 Tbsp vanilla extract
1 Tbsp cinnamon


Set oven at 325 F. Greased a 9×13 pan and dust with coconut flour.


In a small bowl combine the flour, cocoa, sea salt and baking soda. In a large bowl blend together the egg yolks, oil, honey, vanilla and cinnamon. Add dry ingredients into the large bowl and blend together till smooth (very well combined).


Put egg whites in a clean glass bowl, sprinkle some lemon juice and beat till stiff peaks form.
Fold egg whites into the batter and be careful not to over mix!


Pour mixture into 9×13 pan and bake for 35-40 minutes. Before taking it out, test it with a knife and if it comes out clean… it is done.


Remove cake from the oven and allow it to cool completely. If desired, turn the cake unto a large plate or keep it in the pan.




Tres Leches Sauce
8oz Heavenly Sugar sweetened condensed milk
1 14oz. coconut milk or evaporated milk
1 cup whole milk or cream


Pour milks into a large jar and mix very well. Pour over the cake slowly in sections. Do not pour it all at once!


Note: if the coconut milk is very thick, you will need to water it down till it is the same consistency as regular evaporated milk.




Mexican Chocolate Sauce/Frosting
1 cup dark chocolate
1/2 cup coconut oil or butter
1-3 Tbsp raw honey
1 Tbsp cinnamon
1 tsp vanilla
pinch of sea salt
pinch or more of hot chile powder (optional)


In a small saucepan over low heat, melt chocolate and coconut oil or butter. Stir in honey, cinnamon, vanilla, salt and optional chile. Let it cool. Heavily drizzle it over the cake (if desired) and serve!


If you want it more frosting-like… place the sauce in the freezer for about 15 minutes. Remove from the freezer and whip the frosting with a hand blender until fluffy and thick. Carefully frost the cake and serve!


Have a wonderful Merry Christmas! Please let me know if you make this… I do hope the recipe with give you the same success I've consistently had over the last 2 years.


My family raved over this cake and I will be making it again this year ;o)