Whew! This past week has been very busy and fruitful! I've been so preoccupied with things around the house that I failed to notice that my previous post was my 100th! Nevertheless, I figure I could still have fun and be different by celebrating my 101st post… WOO HOO! Come on everybody… cheer with me! Yeah! That's what I'm talking about!! Woo hoo!! :o)
For this celebration I want to share an easy, make-ahead preparation of soaking & dehydrating rolled oats to use for cookies and such. For those who might not know, Oats are the highest in phytic acid and must be soaked before consumed… so all the wonderful minerals can be absorbed properly. I made large batch of this a few weeks ago and this is great to have on hand whenever you have the sudden urge to make cookies. Don't you ever have urges like that, but are unable to make cookies right then and there because you have to soak em' and all? I do!! So, after looking around and thinking what would work… I finally found a solution from a great food blog: Cheeseslave. She had Healthy Soaked Oatmeal Cookies and I saw that she would soak & dry the oats before proceeding on with the rest of the recipe. Believe me, I torpedoed straight to the kitchen to do just that! I didn't make the cookies because I do not have sprouted flour and haven't ventured out to try sprouting my own grains… yet.
Anyway. I know, I know… you all are probably thinking I should be celebrating with ice cream or something festive than old, boring oats. BUT it is worth it because I actually made cookies with these 'Soaked & Ready' Oats yesterday and they were OH SO GOOD! My family couldn't stop eating them… we ate it all in 1 day! PLUS, the cookies were vegan… yes, totally veganlious! Anyway, I'll share those with you another day… right now let's just focus on soaking and drying those oats so you can make them within minutes after getting the recipe, I promise! Okay, is this good enough now? Alright!!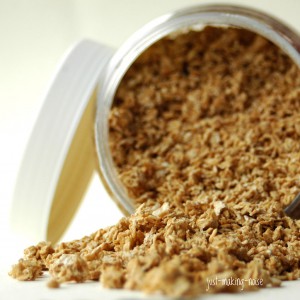 'Soaked & Ready' Oats




4 cups rolled oats (NOT instant)

4 cups filtered water

8 Tbsp. whey, lemon/lime juice, kefir or yohgurt




Warm the 4 cups of water in a saucepan (you don't need a microwave) till warm to touch. Do not let it boil!




Pour the oats, warm water and acid medium (whey, etc..) into a large glass bowl and mix thoroughly. Cover the bowl with a towel or plate & let it sit overnight in your oven or on your counter (wherever you have space).




Important: Let it sit for 8 – 24 hours… 12 hours is okay, but I always soak mine for 24 hours to reduce the phytic acid as much as possible.




Spread the oats on parchment paper in your tray or cookie pan (for oven drying) and put in dehydrator set on the highest temp (if you have that option… I don't) until completely dry. It can take anywhere from 6 to 24 hours… depending on your dehydrator. You can dry the oats in your oven set on the lowest temperature.




When the oats are dried, you will be able to break them into chunks. Put the chunks in your food processor or blender and pulse until coarsely ground (kinda like oatmeal flakes). Don't grind it fine unless you want oat flour.




Pour the oats in a sealed container and store in your fridge or in a cool, dark place. Ta-daaa! There you go… you have 'Soaked & Ready' Oats for satisfying your urge to make cookies! Remember, you can make this however much you want. When I first made these, I used 8 cups of rolled oats. Just make sure you add everything up correctly.






Kim Ripley a.k.a stOOpidgErL!!
"My baby isn't here yet but she will be in December. I'm really looking forward to 'wearing' her. It looks like a great way to bond and very convenient too!"
Double congratulations on your win and soon-to-arrive baby girl, Kim!! I clicked on your link from the comments area and found your AWESOME blog & etsy store. Gals, you gotta check her creative, excellent photography & fun jewelry! Ooooh, I really want to buy something from her! :o)
Thank you everybody for entering and sharing your reasons why you enjoy babywearing. There were many good, consistent answers about babywearing being great for cuddling, bonding, safety, hand-free, soothing, getting things done, convenient, closeness, moving around uneven terrain, keeping baby happy, security, comfortable and my favorite…"

I love babywearing for so many reasons, but none more so than having my baby close to me – just being able to turn my head and put my cheek against theirs or give them a kiss at any moment – ah!"…

so TRUE and important! I am actually liking my sling more and more! Now that I am use to it… I find it very comfortable. That's a good thing!!
Okay, please don't click off too quickly in disappointment! I've got a great deal for the rest of you… a
15% off discount
on any sling or pouch at
Rockin' Sling Baby
! I think that's great deal… just make sure you enter
"15%"
at the checkout box. Now go look around, they've got some really beautiful unique styles there!
My life this past week… whew!
This past Friday and Saturday I soaked & dehydrated almonds and dehydrated pineapple & papaya. I love the smells that wafted through our house! Especially through the night! My favorite is when we are dehydrating chamomile for tea… ahhh, smells soooo good! By the way, I am on the look out for a good dehydrator with a price tag that won't bite our budget. Mine is definitely heading its way out to the dehydrator heaven :o(
Saturday morning, we had Kid's Club in the neighborhood next to us and it was very simple, but GREAT. It was just me and my hubby along with the girls. Usually my mom and a friend would be there to help, but they weren't available. We had a great time playing games, read a Bible story, sang songs and just hanging out till past noon.
Sunday, had a GREAT day with the girls and my hubby! What more could I want?!
Monday, between taking care of the girls, washing diapers, letting the chickens out & feeding them, playing with the girls, hanging diapers, washing clothes, reading to the girls, hanging clothes, preparing lunch, bringing in the still wet clothes in before it rained, feeding all of us and more… I made about a pound of cultured butter! This is my second round and I feel much more confident! I finally found a great source of fresh organic milk AND cream. The other farmer I was buying our milk from couldn't (wouldn't, really) give me just cream so I could make butter. Anyway, I am happy with our new milk connection. I could not believe how much butter and buttermilk I got out of 1 liter of cream… Woo hoo! I want to do another post and this time… use our flip camera and video the process. Really, it is so easy if you have a good food processor or blender. OR you can put some in quart jars and have your kids shake it all over the place! My girls aren't quite ready for that, but when they are… I will make sure video it and share it with y'all :o)
Tuesday, my parents finally arrived home safely from Panama. They did a seminar and had a great time… they brought with them some seriously RAW honey and RAW coconut oil produced by a Tico in Dominical, Costa Rica. The honey is extremely different from anything I've had and DELICIOUS! It has such a heavy, darkly sweet flavor… hard to describe. The bees are wild from the mountains… oh yummy! The coconut oil has an interesting toasty, nutty flavor and very intense. I am really happy to finally find a local source of coconut oil that actually tastes good, but it is a bit pricey for the 3 small bottles. We've been bringing down coconut oil from the States because I've had no luck finding good tasting coconut oil around here (they all tasted either like gasoline or tar, ugh!). Below, you are seeing my little Tabi playing with the bottles… she just wouldn't leave them alone long enough for me to take pictures. So, I thought it would actually be even better to include her in… is she ADORABLE?! :o)
Yesterday, I spent a good part of the morning writing up my comments on the Foodie Fights Battle 14 entries and choosing the winner. Honestly, I was excited to do this and enjoyed being one of the judges… but very disappointed that only 3 actually submit their entries. Oh well, it is what it is! Please head on over there and see who won this round!
Also, did I tell you that I made some seriously veganlicious cookies?! I haven't made cookies in a while and it was so great to have my 'Soaked & Ready' Oats in hand. I had that urge and realized it has been toooooo loooong since I've smelled cookies wafting outta my oven! LOL! Don't worry, I'll share them with you ASAP!
Well, this was a long post! Not sorry about that :o) I hope you enjoyed reading and celebrating with me! I really can't believe that this is my 101st post and that I've had over 19,000 views since I first started this blog back in March of 2009. I have learned so much, seen so many awesome blogs & met many great people out there! Thank you everybody for your support and looking forward to sharing more recipes and my life in Costa Rica :o)
Have a great weekend and remember to take a moment to enjoy your surroundings!