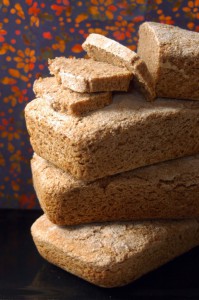 I am so excited! This is my 1st sourdough success and second try at making it. I am very please with how it came out. I used a "no-knead"… well, more like "minimal-knead" sourdough recipe that I found through Wardeh's blog, which she found it on Millie's blog. THANKS GALS!!


My first time making sourdough… I used 100% rye flour and no wheat. DUH! I felt so stupid after I figured out that I needed the wheat for the gluten to help rise the bread. The dough was a hard brick ball that I ended up giving to my chickens to feast on. They loved it and it was gone by the end of the day :o)


Now, my second try… I decided to go with Millie's minimal-knead recipe because it sounded like a good beginner's step towards perfecting the skill of sourdough making. Overall, everything went great and bread tastes wonderfully sour. It is a little dense because I used a little too much flour. The dough was so wet and I couldn't work with it a lot. I have questions about that below…


What starter did I use? I used a Swedish Rye sourdough starter that I purchased from Cultures for Health.


Why the Swedish Rye? Because I am part Swedish and thought it would be great to make & eat sourdough that I know my favorite Grammie Marillyn (yes, I have her name) made back in her young days.


So, I have a few questions for all those who are sourdough experts and those who are learning right along with me :o)


With the "no-knead" is it normal for it to be very wet?


Which do you prefer… "no-knead" or "yes-knead"? Why?


How should I store my loaves?


Do you have a "favorite" sourdough recipe?


What are your favorite flours to work with?


Please share your tips, websites, advises and recipes! Because I want to try different styles of sourdough making till I find "the one" that would become my weekly sourdough bread. I also want to study more about sourdough and its benefits. A good friend once told me "Sourdough is the King!"… so true!


Looking forward to reading up what you all have to say! I hope others will learn along with me as I explore the world of sourdough making.





This is part of Pennywise Platter Thursday @ The Nourishing Gourmet!