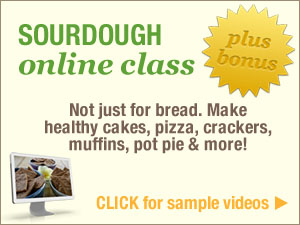 Great News! I am now part of Wardeh's (from GNOWFGLINS) amazing Sourdough eCourse and SO excited to get going. I've decided to journal my way through this e-course and hope you will join me through my highs and lows of baking with sourdough.


So, why did I join the e-course? Well, I ventured out a little when we lived in Costa Rica and was able to make a few loafs, but that was all. I tried to pick it up again after living in Honduras for a while, but I honestly had NO clue what I was doing, killed my starter and gave up. What I needed was a class or a good step-by-step book to get me going again and help me gain confident. I searched online whenever I could, but found NOTHING that suit me… imagine my frustration!


Then a few months later… I learned about Wardeh's Sourdough eCourse. After taking a quick peek into the eCourse… I knew this was the one I've been looking and praying for! Well laid out, engaging and simple… everything I have been looking for in a sourdough course/book.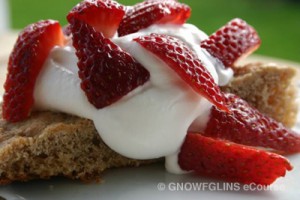 I watched her Sourdough Video and was hooked… Sourdough is truly not just for bread anymore… imagine yourself making healthy, probiotic-rich Chocolate Cake, pizza, corn muffins, English Muffins, waffles, Spice Cake, crepes, shortcake (pictured above), Tortillas and much more! She made it looked so easy and beautiful. I am already daydreaming about all the stuff I want to make with sourdough… I really hope I get good at it!


This week I am going to try and build up my sourdough starter from scratch. Wardee did a WONDERFUL job of showing how it can easily be done using whole wheat flour. Please pray that it goes well!


I hope many of you will join me in this exciting & scary adventure of learning the art of making sourdough.


Alright… Deeep breath… Here I go!