Like Mama, like daughter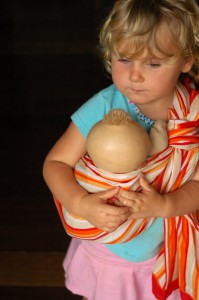 I just wanted to take a few minutes to share some cute pictures of Naomi "wearing" her baby. She was struggling the other day to put on my Rockin' Baby Sling and asked me to help her. Obviously it was way too big for her, but I didn't want to discouraged her from wanting to "wear" her baby. I instantly thought of my scarfs in my bedroom and knew which one would work perfectly as a sling. Naomi wore her baby all afternoon and loved it. She doesn't wear it everyday, but it is hanging in her room whenever she wants it. Of course, I had to take pictures to remember that special afternoon and wanted to share it with you guys :o)
This was a great opportunity to be creative with what we have. I could've easily thought, "Gee, I should buy her a baby carrier… they've got little ones for kids like her!" but why spend money when I already had something that would work perfectly? I love that scarf turned sling and SO glad I kept it all these years. I remember back before we moved to Costa Rica… we had to go through so much of our stuff and decide what we were going to give away, sell, throw away and take with us. We pretty much brought only a little more than a fourth of what we had to Costa Rica… it was hard at first, but later felt very freeing because I didn't realized how much stuff can become a burden. Whenever you buy something new or receive something… you are entitled to take care of that item till you hand it off to someone else or to the trash. That can be burdening… in a good way or bad way.
Back when we first started packing, I remember clearly holding that scarf and wondering if I should keep it or not. I didn't use it much, but loved the colors and often used it to decorate the bedroom. I remember deciding to give it away, but in the last minute took it out of the box and packed it to take with me. I had this sense that I would need it later… and needed it I did! Now, I'm so glad that it is being used in a more useful & beautiful way then just simply hanging in the bedroom. It is amazing how God can speak to us in small ways and help us know what we need… even little needs like the scarf for Naomi!
Let your roots grow down into Him, and let your lives be built on Him. Then your faith will grow strong in the truth you were taught, and you will overflow with thankfulness.