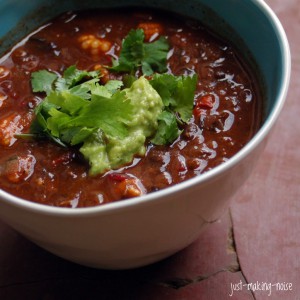 Who out there loves to watch Throwdown with Bobby Flay? I do! I do! I've only seen a few of his episodes, but have enjoyed every one of them. I just LOVE how he takes their signature dishes and recreates them with his own style. Makes me wanna get in the kitchen and do my own throwdown with my cookbooks!! LOL!
I discovered that they aired a Chili Throwdown this past Wednesday! How funny is that?! Here I am posting a chili recipe for a Throwdown by Rouxbe and Bobby Flay just did one. Check it out!

Okay, about the chili here…
I made this EASY, scrumptious one-pot chili for lunch a several Sundays ago and now finally getting it up to share with you guys. I was motivated by a "Chili Throwdown" over at Rouxbe. I thought…"why not?" This stuff was a big hit with my family and another family of 6. We practically ate up the whole pot… and I am talking about a BIG pot.
Silly me, I doubled the amount of chili and was thinking there would be plenty leftover for lunches throughout the week… HA! Yeah, right. The kids all had seconds, the guys had thirds and us gals could only handle one! Now, this stuff was really filling and I could only eat that bowl in the picture above. I was ready to explode when I was done, but I didn't feel yucky. I felt very satisfied and nourished for the rest of the afternoon and only had a bowl of fresh popcorn for dinner… yeah it was that filling!
I've made chili several times before and it just gets better every time I make because I would change up a thing or two… or throw something out of ordinary… like beet greens this time around. I was so pleased with this chili that I had to take pictures and post it here for you all. Full of yummy goodness and great for that cooler weather to come in the states. Right now, October and November are usually the rainiest months in Costa Rica. In fact, it has been rainy pretty much all afternoon and evening today… so nice, refreshing and cool! Makes me want to sit out on my front porch with a steaming mug of tea *sigh*.
Anyway, back to the chili… I've been making stock regularly now and love it. It really makes a big difference in flavor for soups, chili and such. I also love to go heavy on the spices… really helps break through the usual tomato flavor that can overpower your sense of taste. I want to be able to taste everything in my chili! That's what I got for you here… you can make this however spicy you want (we love it spicy) and throw in some cool toppings such as mashed avocado & cilantro to balance the spiceness.
What do I love about the beet greens and baby corn? The CRUNCH! I throw these gals in last just before serving and it is a perfect combination of creamy, chunky and crunchy :o)
Alright, let's get this Chili Throwdown going! Woo hoo!!
Beet Greens & Fresh Baby Corn in Fiery Red Meat Chili

3 pounds chunky ground beef or lamb
Extra virgin olive oil (optional)
2 cups beef or lamb stock
2 red onions, chopped
2-4 small hot or mild green chiles, seeded and chopped
2 cans crushed tomatoes
5 garlic cloves, peeled and mashed
1 Tbsp. ground cumin
2 Tbsp. dried oregano
2 Tbsp. dried basil
1/4-1 tsp. dried chile flakes
4 cups basic black beans
1 bunch of beet greens, finely chopped
1/2 pound fresh baby corn, broke into chunks
sea salt & pepper

For garnishing:

Sliced or mashed avocado
chopped cilantro
Sour cream
Tortilla chips
chopped green onions

Brown meat with optional olive oil in a large, heavy pot until crumbly and still pink (don't want to overcook the meat or it will dry out in the chili). Add remaining ingredients except beet greens and baby corn. Simmer for about 1 hour. Remove from heat and throw in the rest… season with sea salt & pepper to taste. Serve with garnishes.
Yeah, I told you it was easy! I just love how uncomplicated it is to make chili… don't you? I hope this will keep you guys warm through the fall and winter months! Please let me know if you've tried this… did it taste delicious?


PS- DON'T FORGET to enter for a FREE Rockin' Baby Organic Sling! This will be a great gift for your friend or family member. Christmas will be coming around the corner soon!