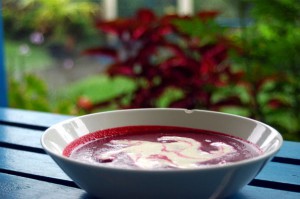 Ok, honestly… beets have been on my "cringe" list for a LONG time. I don't particularly enjoy the strong earthy flavor, but I usually make myself eat or drink a beet every once in a while because I know it is good for me. My mom LOVES beets and grew up on them… my Swedish grandma and German grandpa used to make their signature Beet Borscht often and it was a favorite in their family.
In my Nourishing Traditions book… I kept coming across this simple beet soup, but never really had the desire to make it because you know why. Well, that changed last week because I saw that we had 3 HUGE beets that have been sitting in the veggie drawer for too long and needed to be used. The time for me to have my "once in a while" beet dose was coming up and I decided to make the soup. I knew my mom would slurp it up in a day if nobody wanted it.
After getting my hands all red and getting splattered with beet juice… the soup was finally ready and actually smelled very nice. Now, here's the shocker… I tried it straight from the pot and it was alright, but after putting some in a bowl and topping it off with cultured cream… I really, REALLY liked it! The cream is what made the soup taste more than just beet 'n dirt in a bowl… it really brought out the sweet buttery taste of the beets and gave it a slight tang. I had two bowls full… yeah, it was that good and everybody else enjoyed it too! My girls weren't big fans, but they did swallow down a few slurps :o)
Did you know that beets are very rich in B vitamin folate, which is vital for normal tissue growth and very important during pregnancy to insure proper development of the baby's spinal column? Beets are also known to fight cancer, provide protection from heart disease & contains Betaine which helps lessen inflammation. Beets are powerful!!



Classic Beet Soup

6 medium beets or 3 huge beets
4 Tbsp butter
1 quart filtered water
Sea salt & pepper
Cultured cream (piima or crème fraiche)

Peel and chop beets. Sauté gently in butter for 30 minutes or until tender. Add water, bring to a boil and skim off foam. Simmer for about 15 minutes. Puree soup with a handheld blender or standing blender (be very careful as it is hot!).

Season to taste with sea salt and pepper. Ladle into bowls and serve with cultured cream.



This was a great "rainy day" soup! If you look closely at the picture below… you will see that hard rain bouncing off the walkway. I tried my best to capture the rain along with the soup, but it wasn't easy…
Anyway, hope you will try this soup out and enjoy it as much as I did!