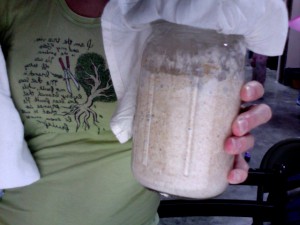 I caught some yeast! I now have a Honduran Sourdough Starter… how fun is that?! (Sorry about the picture. I was holding Tobi while trying to take a picture using my Mac camera… that's the reason why you can't see the many bubbles, I was moving it around too much.)
Anyway, it has been 3 weeks today since I started my starter. I was surprised by how easy it was to make it… you just need A LOT of patience (which I don't have a lot of!) and not be afraid to experiment (which I am usually terrified to do because I HATE failures!). It was fun watching my starter slowly grow over the last two weeks. It took a while for it to take off because our home is so breezy and cool. I threw the starter in the dehydrator
a few times and that seemed to help get it going on a steady pace of rising and showing life (LOTS of bubbles). I also didn't worry too much about how much I was feeding it as long as I was feeding it! I found that some people like to weight their flour or at least measure it accurately when feeding their sourdough and baking. I am finding that I am pretty spontaneous when it comes to feeding my starter… sometimes I might throw a little extra flour in or give it less water or not feed it at all! Why?


My guess is the feeling of just learning what its needs are and eyeballing it :o) If I don't get a lot of action after its previous feeding… I just give it a stir and put it somewhere warmer, like my dehydrator. If I get lots of action… I scoop out only a 1/4 of the starter and give it extra flour/water. Most of the time is it pretty much the same… scoop out half and feed it 1/4 cup flour and water. Again, its all experimental and everyone's sourdough is unique because no home environment is the same!


If you are interested… I kept a journal of my starter's progress over the last two weeks. If you are not interested in reading, then scroll on past :o)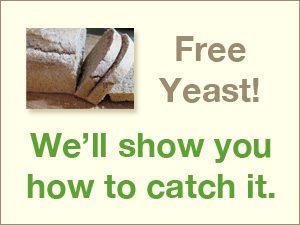 March 7th
PM- Started the sourdough starter with fresh hard white wheat flour and water. Out it in a quart glass jar, stirred it up like crazy and covered with muslin cloth.


March 8th
AM- No life yet. Think it was too cold last night to get going. Stirred it vigorously and set it on my toaster oven for the day. I turned it on a few times throughout the day to give the starter some warmth. Stirred it again around noon… there was water floating on top.


PM- Still no life. Stirred it up again and left it with a little prayer.


March 9th
AM- Water on top, but see a little life (bubbles). Instead of removing 1/2 of the starter like the instruction says… I added 1/2 cup flour and 1/2 cup water. Stirred it crazily and covered with cloth.


PM- Still seeing a separation of water and wheat. Seeing a little more life (bubbles). Stirred it, scooped out half the starter, fed it and stirred it again. Left it covered with muslin cloth as usual.


March 10th
AM- Still seeing the water floating. Still see life, but not much more than yesterday. Stirred, scooped out half, added more flour and water, stirred it like a crazy woman and said another prayer!


PM- Same as this morning (AM)


March 11th
AM- Yeaaa! Seeing a rise in activity (more bubbles) and the starter has grown! Still seeing water floating in the middle of the wet dough (why is it doing that?!), not floating on top. Scooped out half the starter, fed it and stirred it up for the day.


NOTE: I've been saving all the starter that have been scooped out. I hate waste and decided to give my chickens the discarded starter. I put it all in a bowl and let it sit out till full. Then I brought it out to my chickens… they attacked the sourdough with love :o)


PM- Seeing more bubbles, but not enough to satisfy me. Decided to give it a strong stir and leave it for the night. No scooping out 1/2 or feeding it. Said another prayer and went to bed.


March 12th
AM- The starter seems to be rising, but there is a layer of water near the bottom (again). Gave it a crazy stir, scooped out half, fed it and stirred it again. To help the starter along, I put it in my dehydrator
and left it on low.


Noon- Checked the starter and was THRILLED to see that is has doubled its size with LOTS of bubbles! Woohoo!


PM- No water at the bottom. Good activity! Stirred, scooped out half, fed it and stirred it again. Said a prayer of thanks and went to bed.


March 13th
AM- Starting to look stronger and consistent with bubbles. No water at the bottom. Stirred, scooped out half, fed it and stirred it like crazy. I put it back in the dehydrator
for the day.


PM- Same as this morning (AM), but did not put it back in the dehydrator.


March 14th
AM & PM- Showing lots of bubbles and life. Didn't rise as much as it did yesterday. Did the usual and kept it out in room temperature.


March 15th
AM & PM- Same as yesterday.


March 16th
AM- Starting to look a little flat. Did the usual with a little extra flour and warm water.


PM- Rose beautifully and smells slightly sour. So HAPPY! Did the usual and went to bed.


March 17th
AM- Getting more consistent and strong. Did the usual and showed my friend how to care for it over the weekend while my hubby and I went to a missionary retreat.


March 19th
PM- Came home and found my starter dry & dead. My friend kept adding flour, but forgot to add water!! LOL! Thankfully she faithfully scooped out the starter and stored it in another glass bowl to give to the chickens… but decided to wait till I got home. Whew! I was able to use the "discarded" starter to keep going. I simply poured what I needed into a new jar, fed it, stirred like crazy and went to bed.


March 20th and onward…
Woohoo! Alive and strong! So many bubbles. Whew!
Now, I think we (the starter and I) are ready to tackle some of the easy recipes… crackers and pancakes. I think we'll start with the crackers because it is easy and I've made crackers many times before using the soaking method. We've always enjoyed them, but now I am going to enjoy sourdough crackers even more because of the wonderful benefits. I don't think I will go back to the soak method version if these turn out as good as I hope :o)


I am REALLY enjoying Wardee and Erin's Sourdough eCourse. I am so grateful for all their hard work to bring us the most simple e-Course out there. Honestly, I was turned off by the idea of making sourdough because it seemed so complicated and overwhelming. I tried a few times to make sourdough bread and it came out pretty good, but not good enough. I check out some of the popular sourdough sites, but didn't quite "get it"… if you know what I mean :o)


Anyway, in the e-Course they have transcripts of interviewing three cooks (Wardee, Erin and Katie from Kitchen Stewardship) who all have VERY different styles and methods of caring for their sourdough. I found that really helpful and encouraging. One thing I learned is that there is no "set way" of creating your sourdough starter and caring for it… Wardee feeds her starter once a week, does big batches of sourdough cooking once a week and uses fresh flour. Erin leaves her starter out on the counter, uses it everyday and uses store-bought flour. Katie is random and doesn't have a schedule with her starter, uses both fresh and store-bought flours and she still gets great results!


Shows that yeast will thrive if you give it a good environment and time!


I will write again soon and share about my first sourdough experience with crackers. I hope many of you will join in with me on my sourdough adventure! Thanks for reading along and sharing your thoughts and shouts below :o)