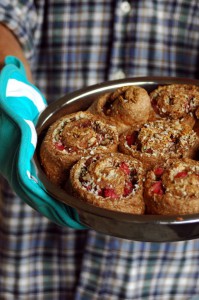 Oooh la la la! These cinnamon rolls were so good, especially with the strawberries. Who doesn't love a good, thick, hot, somewhat gooey cinnamon roll?! I just love how I can now take it a several steps further and make it healthy and nutritious with my sourdough starter!


When I first started GNOWFGLINS Sourdough eCourse, I was super excited to see a recipe for cinnamon rolls. I don't make cinnamon rolls often and when I do… it is a real treat! I like to make it different each time, but I know I will be making the strawberry with coconut and pecan again soon!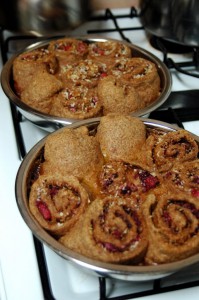 So, I made two different batches of cinnamon rolls. One with strawberries, coconut & pecans and the other one with blackberries, ground ginger & coconut. The latter batch was good, but not as good as the first batch! I think it was the ginger… it was a tad bit too much. I don't think I will do that again.

I also needed to let it bake longer because the rolls were so big, but I like it big! I made a quick frosting by mixing together whole milk, powdered raw sugar (just blend it in the blender till fine and powdery) and vanilla extract. I start with a cup of milk and add in about 1/2 cup powdered sugar… mix and add more sugar until it is thick, but loose enough to dribble it on the rolls. SO yummy!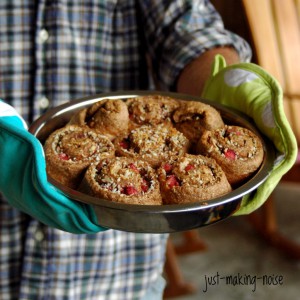 Strawberry Coconut Pecan Sourdough Cinnamon Rolls


I can't share the recipe because it is not my own. If you would like this fantastic recipe… you can either join the Sourdough eCourse or purchase the Sourdough A to Z eBook (which is the whole eCourse in one book for only $20 and it includes lifetime updates!).


I will share with you that I used coconut palm sugar as the sweetener and butter as the fat in the dough. For the filling I used LOTS of butter, rapadura, cinnamon, coconut flakes, chopped pecans and strawberries.


For the second batch I used coconut palm sugar, ground ginger and butter in the dough. For the filling I used butter, rapadura, ground ginger, coconut flakes and blackberries. Next time I will leave out the ginger and add in chopped almonds.