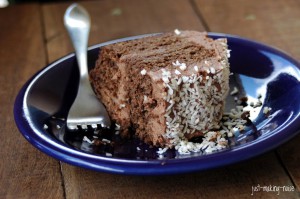 Rich… tangy… moist… amazingly good.


I can't get over how easy it was to make it! For so long I always thought that sourdough seemed… complicated and a lot of work. Boy, I was so wrong! I am SO grateful for the gals who put together the Sourdough eCourse… they made it so simple and easy.


Now, look at what I've made… a sourdough starter from scratch, crackers, pancakes, tortillas, muffins, pizza, cornbread and now a chocolate CAKE!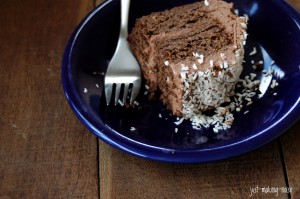 Yeah, it tasted just as yummy as it looks!
I doubled the recipe and made a 2-layer cake with homemade cream cheese frosting. I made so much frosting that it almost seemed more like a cheesecake than plain old cake! My oldest, Naomi, loved the frosting so much that she ate it all off her cake and was too full to even finish the cake. LOL!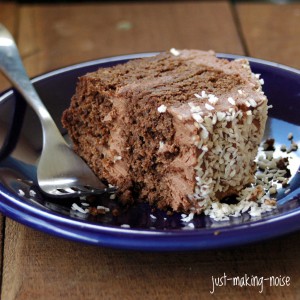 Chocolate Coconut Sourdough Cake w/ Chocolate Cream Cheese Frosting


1 cup sourdough starter (fed in the last 12 hours)
1 cup coconut milk (or other milk)
2 cups whole wheat flour
1 cup coconut palm sugar
1 cup coconut oil, butter or both (lightly melted)
1 Tbsp vanilla extract
1 tsp sea salt
1 1/2 tsp baking soda
3/4 cup cocoa powder (preferably not Dutch processed)
1 tsp finely ground coffee (optional)
2 eggs


Mix together the starter, coconut milk and wheat flour in a large bowl. Cover and let it sour for 5 to 8 hours.


Preheat oven to 350 F and grease a 9×13 cake pan or two 8″-9″ cake pans with butter or oil and set aside.


In a different bowl, mix together sugar, coconut oil, vanilla, sea salt, baking soda, cocoa powder and coffee. Add eggs and beat it up well. Combine the sourdough mixture with the chocolate batter. Mix till smooth and pour into prepared pan(s).


Bake for 30 to 45 minutes. Test with a toothpick in the center to see if its done. Remove from oven and let it cool completely before tipping them onto a plate.


Chocolate Cream Cheese Frosting


1 cup homemade cream cheese (store bought is fine too!)
1/2 cup raw honey (more or less)
1/3 cup cocoa powder
2 tsp vanilla
Coconut flakes


Whip together everything except the coconut flakes in a blender or food processor till smooth.


If you are doing a 2-layer cake, tip out the first cake onto a plate and spread with frosting. Tip out the second cake on top and spread frosting on top and the sides. Sprinkle heavily with coconut flakes. Serve and enjoy!


TIP: This cake is great at room temperature, but my family loved it cold. They said it was like having ice cream cake :o)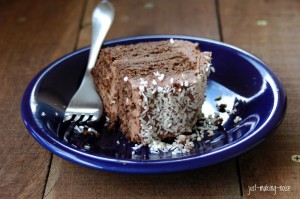 See! So easy! Hope you try this sometime. Great for all those summer barbecues with friends and family :o)

By the way:
I updated my recipes page. Hopefully I will stay on top of that from now on!