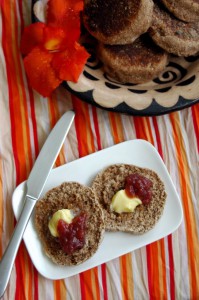 Okay, call me crazy if you want… it is 12:00 am and while I am typing up this post… I am in the middle of making a quadruple batch of these amazing Sourdough English Muffins! They are SO SO good! Thankfully, I don't do late night baking often. Only when I need to make a large batch of something or couldn't find the time to make it before dinner. So, I have to wait till the kiddos get into bed, organize the house a bit and then get started.


I think it is worth it because we will have fresh english muffins for breakfast tomorrow… well, actually, later this morning :oP LOL!!


Anyway, I remember loving english muffins growing up. There was just something about the texture and taste that is so much better than a piece of toast for breakfast :o) My hubby especially loves english muffins. I remember him talking about how much he loved making egg sandwiches, tuna melts and slathering jam/butter on thick slices of english muffins. So, of course, when I saw that GNOWFGLINS Sourdough eCourse had a recipe for sourdough english muffins… I had to try it out!
I made these guys last week and can't believe how
easssy
they were to make. I was a little apprehensive when I first started out, but was so excited at the end how awesome they came out. When my hubby ate 3 english muffins the next day, gave me 2 thumbs up and my girls begged for more… I knew I had a winner!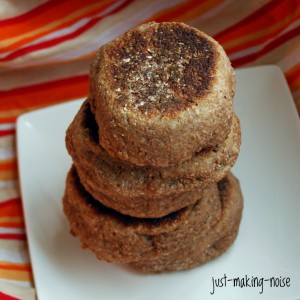 Whole Wheat Sourdough English Muffins


I pretty much followed this recipe for the english muffins and only had to add a little more flour after kneading in the the honey, sea salt and baking soda. I found it very sticky… even after I used olive oil to prevent it from sticking all over my table and hands. I almost gave up and was ready to toss it because it was so sticky. Thankfully, I was able to save it by add more flour and kept on kneading it until it was smooth. I was too stubborn to give up that easy! LOL! Because I added more flour, I was worry that it was going to come out heavy and thick, but it was fluffy and thick in a light way… perfect! Plus, the flavor was simply superb!


This time around, I made sure to add more flour to get the dough pretty stiff. I found that it relaxed alot during the fermenting time. It wasn't as sticky as the first time around, but I knead the dough in flour instead of olive oil. I like it better that way :o)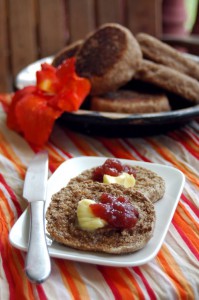 Don't waste time thinking if you should do this or not… go and get it done! It is so easy and SO yummy! My family and I are in love with these delicious guys :o)