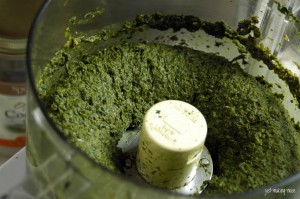 Wondering what to do with all the cilantro in the garden? Can't seem to keep up with it? Worry no more!

My neighbor and friend (Thanks Linda!) brought over a big bucket of cilantro for me because she didn't know what to do with it all… I instantly thought of pesto. Who says you can only use basil to make good pesto?

This recipe makes about 1 cup of pesto and I made about 4-5 cups of pesto. I've found the best way to keep the flavors consistent is by making it in small batches. It is also easier to process.
While making this I decided to make it more Mexican style. Instead of the traditional pine nuts… I used pepitas (pumpkin seeds) and even added a big dash of hot chili powder to give it a little kick. It tasted delicious topped on raw cheddar cheese… hmmmm!
There is so much you can do with pesto and I love how it freezes so well! You can store them in small pint mason jars and store one in the fridge and the rest in the freezer. Pesto is good for a couple weeks in the fridge and up to a month or longer in the freezer.



Spicy Cilantro Pesto

2 cups fresh cilantro, chopped

2-4 garlic, peeled

1/2-1 tsp. sea salt

1/4 cup pepitas (pumpkin seeds)

1/4 – 1 tsp of hot or mild chili powder

1/4- 1/2 cup olive oil

Place cilantro in food processor or blender. Pulse till well chopped. Add garlic, sea salt, pepitas and chili powder. Chop well.




Using attachment for adding liquids drop by drop and, while running, add olive oil to form a thick paste. Scoop paste into pint jars and store in fridge or freezer.