You all remember my post about my fresh ginger last week, right? I received so many wonderful ideas (thank you everybody!) and will be saving many of them for future uses when I (hopefully) get more fresh ginger.
I want to share with you a scrumptious fish dinner that we had a several nights ago (inspired by the suggestions on my ginger post). Since we live in a country with the ocean on both sides… my hubby wanted me to do something with fresh fish at least once a week. So I decided to whip up some spicy sauce for the fish (Mahi Mahi) and put it on the grill in parchment paper. This was the first time (and won't be the last) we tried this and the results were delicious! The fish was so tender… almost melting in our mouths, but with a slight crispy edge. The sauce was just perfect… sweet, salty & spicy, all in the right balance.
I loved how easy and fast it was to prepare this! I am looking forward to making more of this with different sauces and fish. Warning: I made all this spontaneously… so there are no measurements. Be creative, adjust to your tastes and try it! Have fun!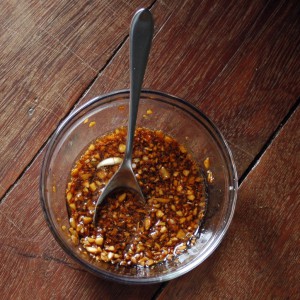 Spicy Ginger Sauce




Ginger, finely chopped

Garlic, finely chopped

Fermented soy sauce

Coconut oil

Sesame oil

Fresh lime Juice

Dried chile peppers

Fresh ground black pepper




Start your grill. Mix ingredients together and set aside.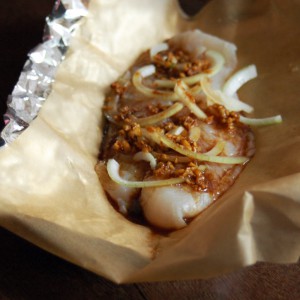 Fish Filets in Parchment Paper




Aluminum foil

Brown parchment paper

Fish filets

Spicy Ginger Sauce

Onions, sliced




Cut the foil and line them with parchment paper of same size. Make shallow "boats". Place a portion of fish on each "boat". Top with Spicy Ginger Sauce and onions. Fold foil, with parchment paper, together at the center, then roll the ends in (now "packets"). Cook your "packets" on the grill for about 15-20 minutes (depending on how hot your grill is). It will be ready when it starts to get bubbly.






Stir-fried Ginger Broccoli

1 big head of broccoli, chopped

Ginger, finely chopped

Garlic, finely chopped

Sea salt

Black pepper

Coconut oil




Warm oil in pan. Add ginger and garlic. Saute till lightly brown. Add broccoli and stir-fry lightly. Cover with a lid and let it "steam" for a few minutes till broccoli turns bright green (don't overcook it! Keep it crunchy). Add sea salt and black pepper.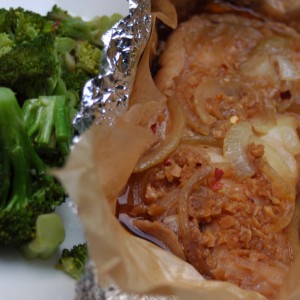 Spicy Fish Filets in Parchment Paper &

Stir-fried Ginger Broccoli




Open the "packets" and serve with stir-fry ginger broccoli. Quick & simple, but so good!



Does that look yummy? Have a great weekend everybody!