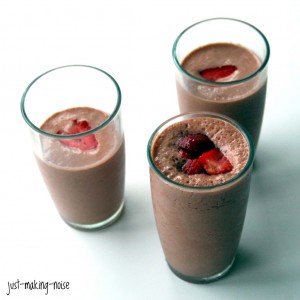 I came up with this milkshake idea when I was in the mood for ice cream, but it was too late to throw some together in the ice cream machine. I had this sudden flashback of drinking/eating milkshakes as a young girl and my favorite was Strawberry Chocolate. I used to go to this retro diner that was famous for their huge milkshakes and choices of crazy flavors where you could make up your own personal milkshake (my cousin loved Dr. Pepper & peanut butter milkshake..ugh!!). I always got Strawberry Chocolate… never anything else… just the same old, never disappointing Strawberry Chocolate milkshake.
It had been so looooong since I had a milkshake and knew I had to make one. It was so easy to whip together and SO HEALTHY that I couldn't understand why I didn't think of this sooner! The cacao has more amazing antioxidants then green tea, red wine or blueberries put together. They are also a great source of copper, potassium, magnesium & iron… which makes sense as to why cacao beans are considered "the food of the gods"…
Ok, I'm sure most of you are thinking what I thought myself… what's the difference between cacao (ka-cow) & cocoa? I just thought cacao was raw while cocoa wasn't, but knew I had to look it up. After researching around… I was able to confirm that it was indeed correct. "Cacao" refers to the bean that comes from the cacao tree, Theobroma cacao. The beans are harvested, fermented, dried… which makes them "raw cacao". But then they are often cleaned & roasted, which makes them considered processed and often referred to as "cocoa".

So, to put it simply, if you're after the raw product, go for 'cacao' whereas 'cocoa' refers to the processed product. Either way, they both are so good for you… obviously, in moderation :o)
Strawberry Cacao Milkshake

30+ frozen strawberries

3-5 Tbsp cacao

1/4-1/2 cup raw honey

3 cups milk of your choice


Put everything in the blender and blend till smooth, but I also like to have some chunky strawberries floating in there so I don't blend it too smooth. Pour into tall glasses, top with sliced strawberries & enjoy!