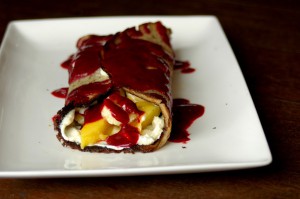 Good morning everybody! How many of you would like some sweet crepes in bed for breakfast? Oo, I'm sure many of you would love that!! Anyway, these gals are so easy and delicious! I really like the "blender-style" by Sue Gregg… it really makes it easier if you don't have a grain mill, but I do have a Family Grain Mill now and LOVE it. The Lord blessed us with the finances to purchase one through the Foodbuzz 24, 24, 24 PLUS we got an extra discount on the already discounted price! I am so grateful that we finally have one after 3 years of waiting and looking. God is good!
Anyway, the crepes were wonderfully earthy, chewy and flavorful (& gluten-free!!). Topping it with the Creamy Honey Cheese, fresh mangos, fresh bananas and then finalizing it with blackberry sauce dribbled on top made it heavenly! This was my first time making crepes and I'm really pleased with how well they turned out.
Even though it was my first time making these gals… it certainly wasn't my first time eating crepes. I have childhood memories of my mom making homemade sweet crepes for Christmas brunch. I recall slathering them with fresh jam, fresh fruit, powdered sugar and LOTS of syrup. I also have sweet, young memories of my favorite Swedish grandmother (I'm her namesake) making her special Swedish pancakes whenever we would visit. Sadly, she past away when I was 10… I really wish she were alive because I can imagine us whipping up yummy Swedish dishes in the kitchen together right now! Someday soon I must try my hand at making her Swedish pancakes and find a traditional Swedish cookbook. I'll have to explore my other side too, which is German… my grandpa was a great cook too. I guess I do come from a line of cooks on my mom's side of the family. I certainly didn't get it from my mom, sorry mom, but thankfully it still came through her to me :o)
Alright… back to making crepes, I used my cast iron pan to make these crepes. I know most people use a non-stick skillet, but I prefer to stay away from those. I found that keeping the pan oiled and hot did the trick. You'll need to be patience because the first time takes a little longer than the rest, but once you get past the first one… just make sure you keep rubbing oil on the pan in between making each crepe.
You can make these gals savory or sweet. Great for breakfast, lunch or dinner depending on what you chose to fill them with. I haven't tried the savory style yet, but will soon enough :o)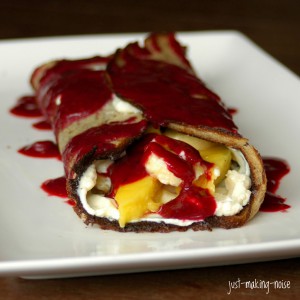 Buckwheat Crepes (Blender-style & Soaked)




3/4 cup kefir, cultured buttermilk or water minus 2 Tbsp & add 2 Tbsp raw apple cider vinegar

2 tsp. coconut oil (or your choice of oil)

1/2 cup buckwheat flour or 1/3 cup whole buckwheat

1 egg

1/8 tsp. salt

2 tsp. honey (for sweet crepes)

1/4 tsp. cinnamon (for sweet crepes)




Combine kefir (or other), oil and grain in the blender. Blend for about 3 minutes on high or just 30 seconds if using flour. Cover blender and let batter stand overnight at room temp to break down the phytates. After soaking, add egg, salt, honey & cinnamon (if making sweet style). Blend till well mixed.




Rub your cast iron pan with oil and get it nicely hot, but not smokey. Have a napkin ready for rubbing more in between crepes. Pour about 1/4 cup of batter into the hot pan and quickly tilt the pan to spread the batter evenly to the edges. Mix your batter each time before making each new crepe. Cook till edges are browned and loosen along the edges with a thin table knife or spatula. Turn over crepe and cook for about 30 seconds. Turn over onto a plate and keep it warm with a light towel covering it. Rub more oil on pan and continue till batter is used up.




Top with Creamy Honey Cheese, your choice of fruit and syrup. For the blackberry syrup… I cooked the berries with a little water till they were mush, added arrowroot powder and boiled it gently till it thicken. Then I added honey and pour the mixture in my blender. Gave it a whirl till smooth and poured into a jar to serve. Simple, tart and sweet!



The crepes freeze well (great emergency breakfast meal) and can be warmed up in a toaster oven if you have one. We also like to make nut butter and mango butter rolls with the leftovers for snacks… muwah… delish!
Remember to enjoy your weekend!