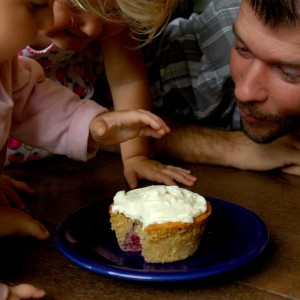 Hey guys & gals! I hope you aren't getting "sweet-overloaded" out there… LOL! Did you all enjoy the eye candy photos of the Bizarre Love Triangle Brownies? Have you voted on your favorite dish yet? If not… head over to Foodie Fights and then come back here to enjoy these spicilious muffins!
As you can see… my hubby and girls were having fun teasing me while I was trying to take pictures. These muffins were so spicy and full of yummy goodness! They were a big hit and great with breakfast smoothies, but you can use these for dessert too! These guys are so easy to make and you can create almost any kind of flavor you want. I really enjoy muffins because you can keep a basic recipe and than add on to it with your own variety of spices, fruits and flavor… such as this one: mango, blackberries & ginger.
As usual I soaked the flour for 24 hours with kefir, but you can substitute kefir with water and 2 tablespoons of whey, lemon juice or vinegar if you have milk allergies or don't have access to cultured dairy. If you are wondering why I like to soak the flour… please read on here. I have been enjoying using Hard White Wheat for my baking as it holds up well, but still leaves a great texture! I usually prefer Spelt, but we weren't able to order any (out of stock) while in the States back in July… boo hoo, but it has been fun using the Hard White instead.
Now, that white creamy stuff on top is only three ingredients… pinch of sea salt, raw honey & my homemade cream cheese. So good and wonderful with these muffins, but we also enjoy it with Banana Bread and crepes (recipe coming soon!). I love how easy it is to make!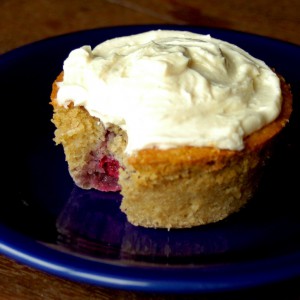 Blackberry Mango Ginger Muffins

3 cups spelt or whole wheat flour

2 cups kefir, buttermilk, yogurt or water w/ 2 Tbsp. lemon juice

2 eggs, lightly beaten

1 tsp. sea salt

1/4-1/2 cup honey

2 tsp. baking soda

1 tsp. vanilla extract

1 Tbsp. fresh ginger, grated

1 tsp. ground ginger

3 Tbsp. coconut oil, melted

Chopped mango, fresh or frozen

Blackberries. fresh or frozen




Soak Flour in cultured dairy in a warm place for 12 to 24 hours. Muffins will rise better if soaked for 24 hours. Blend in the rest of the ingredients. Pour into well-oiled muffin tins (I used individual glass custard cups), filling it about 3/4s full. Add a couple blackberries and mangos in each cup. Press down lightly till partially covered. Bake at 325 F for about 1 hour or til toothpick comes out clean.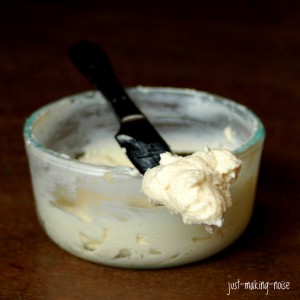 Creamy Honey Cheese




pinch of sea salt (optional)




Whip together the cheese, honey & sea salt in a food processor or blender. Store in an air-tight container.



Okay… I really want to start inviting at least one blogger a month to be my guest on Sweet Wholesome Wednesday. If you are interested… PLEASE let me know! I would like to start this month. Another thing I would love to try doing is creating a community on SWW where people submit their sweet treats every Wednesday and I will highlight a few out of the bunch to share. It can be a old post or new post… whichever you want to do as long as you follow these basic rules.
Let me know what you think and if you have tips or advise… please share them with me! Thank you!