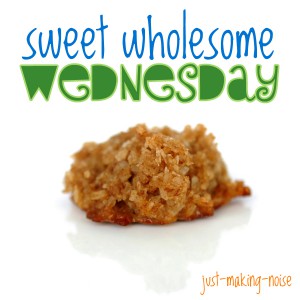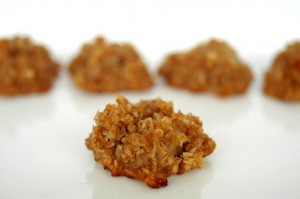 These yummy macaroons were so simple and easy to make. Now I know what to do with all my egg whites that I normally throw out when I use the yolks for smoothies. I was inspired by Kimi's Spiced Macaroons that she made a few weeks ago, but decided to try a different direction with the spices. I had mesquite powder and thought adding it with extra vanilla would be a good start. I was delighted with how deliciously unique the flavors were from my first bite straight out of the oven, but found them even better the next day after the flavors settled in together.
I'm sure most of you are wondering what exactly is Mesquite. I did too when I received this along with some other samples to review (will be sharing about it soon!)… I thought it was supposed to be used to create a "smokey" flavor in savory dishes, but I was so wrong. It is actually bean pods of the mesquite tree that are dried and ground into flour (powder). This adds a sweet, nutty taste to whatever it is added to and great for baking as it contains a slight molasses-like flavor. Mesquite is a leguminous plant found in arid areas around the world, including parts of South America and the southwestern USA.
In desert areas of the Americas, mesquite seed pods have long been used as a food source by the indigenous peoples, who traditionally ground them into a powder to be used as a flour or processed into a sweetener, a sweet beverage, or a fermented alcoholic drink. Today, mesquite powder is proving to be a versatile food with a high nutritional and flavor value.

Mesquite is also very effective in balancing blood sugar. Because its sugar is in the form of fructose, which does not require insulin for metabolism, mesquite helps maintain a constant blood sugar level for a sustained period of time. It supports the diet of diabetics, and helps maintain a healthy insulin system in others.

I also learned for thousands of years, Native Americans in the Southwest and Mexico relied on mesquite as a food staple, and there was no diabetes in those communities. Today, as the people have moved away from their native foods and become less active, diabetes and obesity have skyrocketed. Fifty percent of the Pima and Tohono O'odham people over the age of 35 reportedly suffer from diabetes, and it is believed that the removal of mesquite from their diets is one of the main causes.

Because mesquite powder is ground from the entire pod, including the seed, it is high in protein (11–17%). It is also rich in Lysine, Calcium, Magnesium, Potassium, Iron, Zinc & Dietary fiber.
So now you know what Mesquite powder is and its sweet qualities! I've been enjoying this powder in smoothies and now with these macaroons. You can find Mesquite flour (or powder) in most raw food websites nowadays and might even be carried in your local health store.
Vanilla Mesquite Macaroons

4 egg whites
generous pinch of sea salt
2 Tbsp mesquite powder
1/2 cup coconut sugar
1/4 tsp stevia powder
1 Tbsp vanilla
2 cups fine coconut flakes (unsweetened)

Separate eggs and let the egg whites come to room temperature.

In a very clean glass bowl beat the egg whites with a hand beater until frothy. Add the sea salt and beat till egg whites are stiff and keep their shape.

Fold in mesquite powder, coconut sugar, stevia & vanilla. Then fold in the coconut flakes. If it looks too thin, add more coconut flakes… about a Tbsp at a time. Just keep in mind that the batter will be much thinner than the standard cookie dough.

Preheat oven to 350 F and cover cookies sheets with parchment paper. Drop small spoonfuls, one inch apart, onto the sheets. Bake for about 20-25 minutes or until the cookies are lightly brown and set.

Remove them from the pan and cool on cooling racks. Enjoy right away or store in fridge for up to several weeks.



"God whispers to us in our pleasures, speaks in our conscience, but shouts in our pains: it is His megaphone to rouse a deaf world" – C.S. Lewis