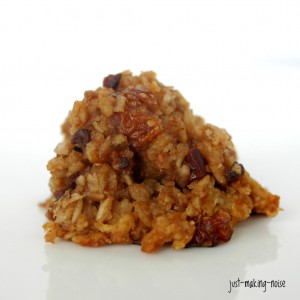 Here are the vegan-licious cookies I told you about a couple posts ago. These yummy gals are egg-free, wheat-free, dairy-free, sugar-free and can be gluten-free if you use GF oats. They are also full of yummy goodness from coconuts, ripe bananas, almonds, cinnamon and my 'Soaked & Ready' Oats. The gals were a bit crumbling, but I think I could've let them sit in the oven a little longer to prevent that. But we ate them in less than a day… it felt & tasted great going down! I found these at 101 Cookbook and followed the recipe, but added dried gooseberries & sweetened cacao nibs instead of chocolate…so tart and delicious!
If you have your 'Soaked & Ready' Oats in hand… go and make these now! These literally took me less than 30 minutes to mix together and about 15 minutes in the oven… so you can enjoy these gals in less then an hour! If you just have regular rolled oats… you can totally use them, but you'll be missing out the benefits of soaking the oats beforehand. Also, you can make your own almond meal by simply chopping whole almonds in your food processor till they develop the texture of sand. Don't go too far or you'll have almond butter instead! I used my soaked & dehydrated almonds for these, but you can use regular almonds.
Wait, before you go off to make these… I am excited to share with you that I've been nominated for The DivineCaroline Love! This Site Award. So, if you do love this blog… could you all take a moment (you'll have to fill out a form, quick & free) and vote for my blog? I would GREATLY appreciate it! There's a badge on the upper right sidebar that you can click on and it will take you directly there to vote. If I remember correctly, the voting is over on December 4th. So make sure you go and do it before you forget… also, let your friends know about it too if they Love! my blog! Thanks so much!
Now, go make those cookies and enjoy!! Let me know what you think ;o)



Wild Gooseberries & Cacao Nibs 'Bite Size' Cookies

3 large, ripe bananas, well mashed (about 1 1/2 cups)
1 tsp vanilla
1/4 cup coconut oil, barely warm – so it isn't solid (or olive oil)
2 cups 'Soaked & Ready' Oats or regular oats
2/3 cup almond meal
1/3 cup coconut, finely shredded & unsweetened
1/2 tsp cinnamon
1/2 tsp sea salt
1 tsp baking powder
1/2 cup chopped dried gooseberries
4-6 Tbsp. sweetened cacao nibs


Preheat oven to 350 degrees, racks in the top third.

In a large bowl combine the bananas, vanilla, and coconut oil… set aside. In another bowl whisk together the 'Soaked & Ready' oats, almond meal, shredded coconut, cinnamon, salt, and baking powder. Add the dry ingredients to the wet ingredients and stir until combined. Fold in the gooseberries and cacao nibs.




The dough is a bit looser than a standard cookie dough, but that's fine. Drop dollops of the dough, an inch apart, onto a parchment lined (or buttered) baking sheet.




Bake for 12 – 15 minutes. Every oven is different… I will let it bake just past 15 minutes next time I make these. Make sure it is nicely browned in the bottom before taking out. Enjoy them warm :o)




Go and enjoy! Remember to check back tomorrow for Sweet Wholesome Wednesday… I have a Special Guest sharing a beautiful tart with all of you!