What could be better on Thanksgiving morning than your standard pancake or waffle breakfast?
A nourishing baked oatmeal with fall spices, tangy cranberries, sweet apples and crunchy walnuts… oh yum!
To make it truly nourishing… I soak the rolled oats for about 24 hours and use nuts that have been soaked & dehydrated. When everything is properly prepared, not only does it taste delicious, but my tummy won't feel like a brick is sitting there after eating my share.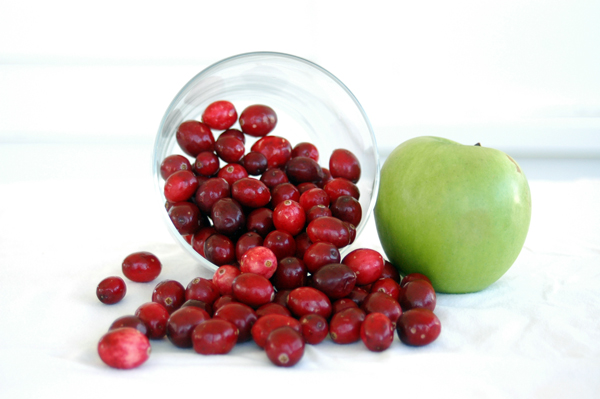 We love the beautiful fall flavors in this oatmeal bake and I have to say this is our favorite "stateside" baked oatmeal… while the Strawberry Pineapple is our favorite Honduran baked oatmeal.

 

:o)
Enjoy it topped with lots of butter & pure maple syrup or raw honey! I also think some breakfast sausage & cheesy scrambled eggs will make a delicious brunch if you decide to have a late breakfast.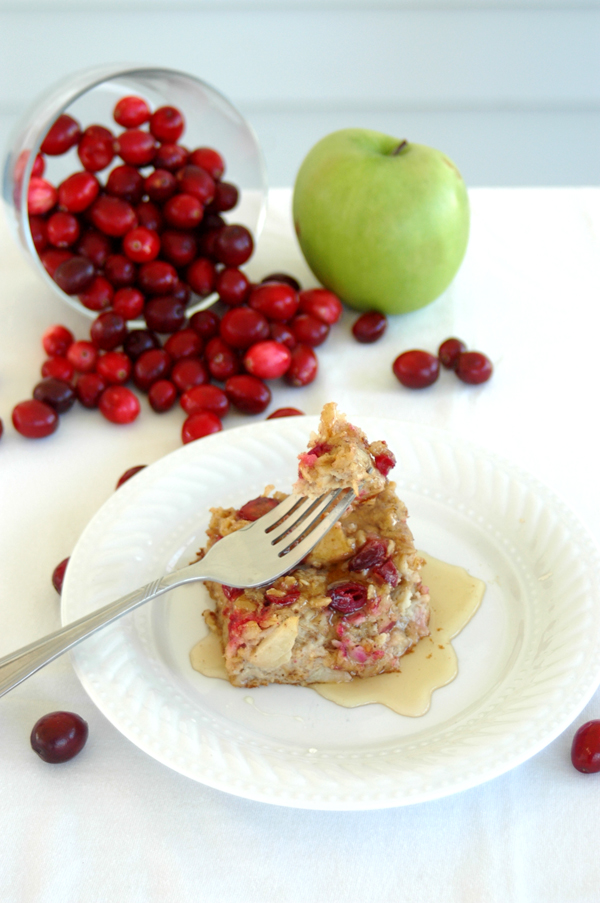 Spiced Cranberry Apple Baked Oatmeal
4 cups regular rolled oats

1/3 cup whey, raw apple cider vinegar, lemon juice or sourdough starter

6 cups water
Combine oats, choice of acid and water in a big bowl. Cover and let it soak overnight (if using sourdough) or up to 24 hours (using whey, vinegar or lemon juice).
NOTE: I usually use sourdough starter to soak my oatmeal overnight. I learned from my friend, Wardeh, at GNOWGFLINS that sourdough starter improves the effectiveness of soaking by adding phytase to reduce phytic acid and organisms to accomplish an overnight soaking effectively. Don't worry, it won't be sour as long as you drain and lightly rinse the oats in the morning!
1/3 cup lightly melted butter, coconut oil or olive oil

1 1/2 cups coconut milk or whole milk

4 eggs

1/2 – 3/4 cup rapadura or palm sugar

2 tsp 

vanilla extract

1 Tbsp cinnamon

2 tsp ginger

1 tsp nutmeg

1/2 tsp cloves

3/4 tsp sea salt

2 cups chopped cranberries, fresh or frozen

1 apple, diced

1 cup walnuts (optional)
Morning arrives: preheat the oven to 375 F. Grease a 9×13 baking dish. Drain the oats through a fine sieve. Gently rinse and allow to drain while mixing together other ingredients.
In a large mixing bowl, mix together butter, milk, eggs, sweetener, vanilla, spices and sea salt. Add in cranberries, apple, walnuts and oats. Mix it all together gently, yet well.
Pour oatmeal mixture into a greased 9×13 baking dish. Smooth out the top. Bake for 45 minutes to 1 hour. It should be golden brown when done. Insert a knife or toothpick, it should come out clean when the baked oatmeal is done.
Take baked oatmeal out of the oven and set it on a cooking rack. Let it cool for about 10-15 minutes to set before cutting into bars.
Store leftovers in the fridge, but you can leave it out for a day.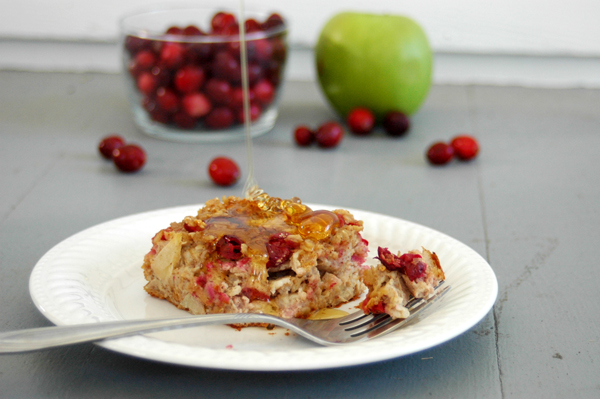 Oatmeal bake makes a weekly appearance at our house… usually every Monday morning because it makes great leftovers throughout the week for snacks or a quick breakfast on the go.
I typically use whatever we have on hand (spices, fruits & nuts)… what are your favorite combinations? Please share below!