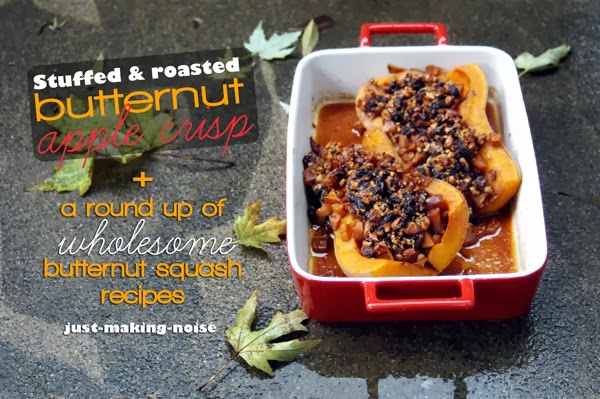 Need some inspiration with the humble, hourglass-like squash sitting on your kitchen counter? You've come to the right place!
Not only do I have a delicious maple-sweetened stuffed butternut apple crisp to share with you, but I also gathered up several nourishing butternut squash recipes that will give you the inspiration & courage to cut through it's hard beige-yellow skin.
Once you've cut through that skin… you will find a beautiful, vibrate, orange flesh that shows several noteworthy health perks.
Health Benefits of the Humble Butternut Squash
According to different sources, the tangerine-like color shows a profusion of powerhouse nutrients such as carotenoids, vitamin A (has more than a pumpkin!) and potassium. Plus, a cup of butternut squash gives you nearly half the recommended daily dose of vitamin C!
On top of that, it is said that this humble squash may have anti-inflammatory effects because of its high antioxidant content!
This humble squash is also an excellent choice for blood sugar regulation, preventing birth defects, feeds the heart, nervous system & immune system, contains 5 B-vitamins (B1, B3, B6, pantothenic acid and folate) and adequate levels of minerals like iron, zinc, copper, calcium and phosphorus.
How to Buy a Butternut Squash
When browsing through the pile of butternut squash at your farmer's market or grocery store be sure to pick them up because a good fruit should feel heavy for its size and have a matte (rather than glossy) skin.
A shiny skin shows that the squash was picked too early and won't be as sweet & flavorful as a fully grown squash. Trust me on this, I learned this the hard way.
When you bring home that yummy, round, fat thing… store it in a cool, dry place (not in the fridge!) with plenty of ventilation and it should keep for up to 3 months. You can also cut up the squash, wrap it up and it should stay fresh for up to a week in the fridge.
Cooking Tips
Did you know that this bulbous-like squash is technically a fruit? I did not know that, but it makes total sense because of the seeds inside the squash! Hmm, just like the avocado & tomato.
Butternut squash is a pretty versatile fruit and you will see that below in the round-up I've pulled together for ya!
The two easiest way to start off with a butternut is either…
Cut in half, scoop out seeds and place on a cookie sheet to bake in the oven for about an hour, or until you can pierce it with a knife.
OR…
Remove the skin, using a vegetable peeler, and cut the flesh into chunks for steaming or sauteing or strips to make butternut squash fries.
Once butternut is cooked using either method, you can mash it, puree it for soup or baked goods, fold it into a pasta or risotto dish or simply enjoy your butternut squash as is.
That's how my dad likes it… he enjoys butternut squash with a scoop of butter and a little bit of sea salt. As is.
Also, don't be quick to throw away the seeds. 
You can simply roast them on a cookie sheet alongside the squash and eat them as a snack!
 They are rich in protein, minerals and health-benefiting vitamins. The seeds are a fantastic source of health promoting amino acid, tryptophan, which is vital for brain health.
Now, are you ready to cut through that fruit and enjoy its many health benefits?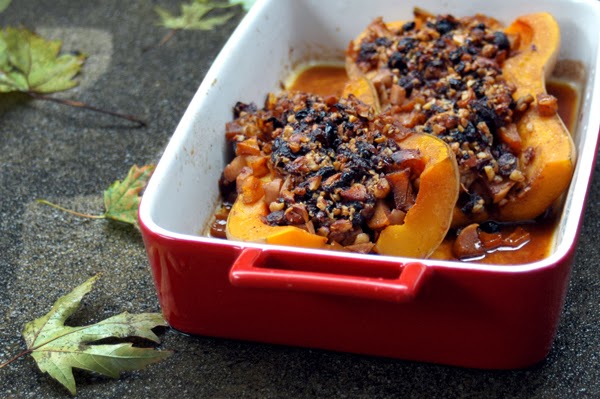 Stuffed & Roasted Butternut Apple Crisp

1 butternut squash
1 large apple, chopped
1 tsp cinnamon
2 Tbsp maple syrup
1 tsp vanilla extract


1/2 cup chopped dried fruit of your choice
Preheat oven to 375 F

Cut the squash in half and scoop out the seeds. Cut the flesh in the center along the neck, enough to make a ditch to put the stuffing in. Chop up the flesh that has been cut out.

In a medium bowl, mix together apples, butternut squash, cinnamon, maple syrup and vanilla.

Put the butternut squash in a pan, facing up and divide the apple/butternut mixture between the 2 halves.

In a small bowl, mixed together nuts, dried fruit, butter, maple syrup, sea salt and cinnamon.

Put the crumble topping over the apple/butternut mixture.

Cover the pan with parchment paper or foil and bake for 40 minutes.

After 40 minutes… uncover, scoop up any juice and drizzle over the squash and bake, uncovered, for another 20 minutes or until the flesh of the butternut squash is soft.
Enjoy it hot as it is or serve some homemade ice cream alongside it. I'm sure the Horchata Ice Cream would be fantastic with this!
Looking for more butternut squash recipes? See below! 
Round-up of Wholesome Butternut Squash Recipes
Here's what I have found so far among my real food blogging friends, but I plan to update this list in the years to come. Enjoy!

Do you have a favorite recipe with butternut squash? Please share in the comments below!