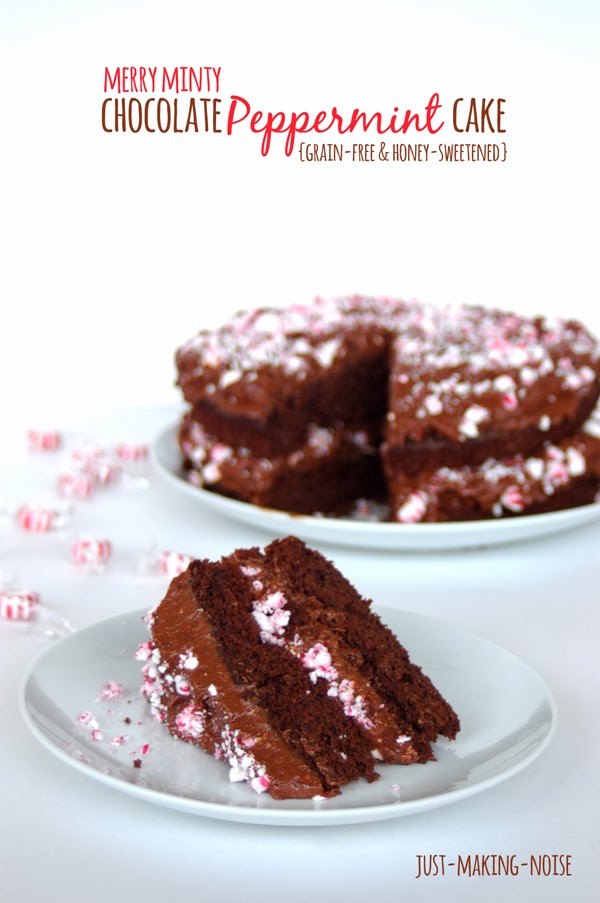 Hope you all had a wonderful Christmas and looking forward to a great New Year!

Did you miss me?

This pass month was a busy time of ministry, birthdays, family visiting and Christmas. So, I decided to take a step back from my blog and computer in general.

I really needed that break.


Now, I am slowly coming back. Not sure how often I will be blogging, but I want to take a different approach with my blog.
I want to try to write more about my life as a deaf missionary mama and share about other things besides food. I am even thinking about moving over to my own domain and stuff… soon, hopefully.
Okay, enough about me and the blog.
Let's talk about this cake…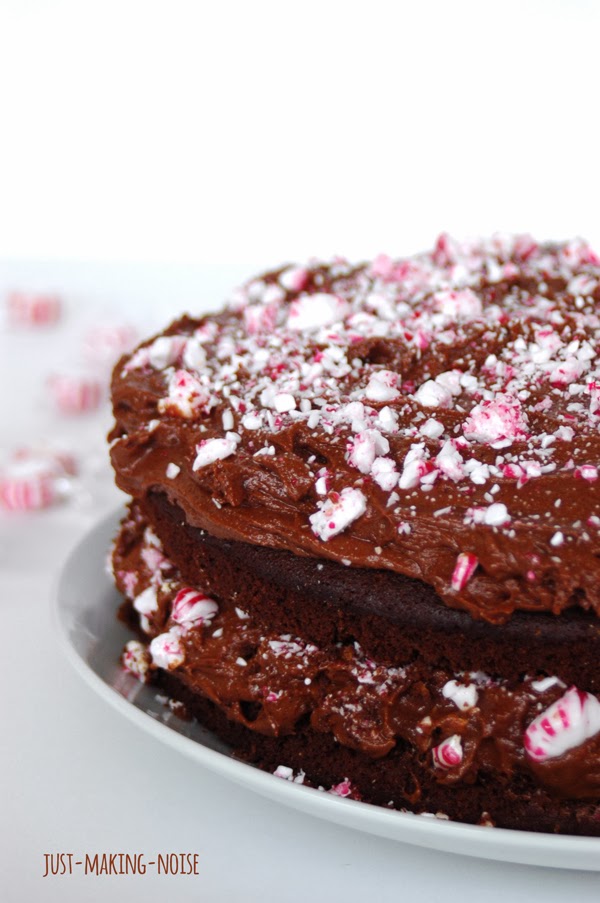 Cool, creamy, minty, rich and so nourishing… this cake is simply divine, easy to make, loaded with healthy fats & protein and deliciously grain-free.

Plus, everything about this cake is, well… minty. The cake is minty, the frosty is minty and crushed peppermints topping it off, making it literally a "merry" minty cake.

I had so much fun making this cake… and eating the leftover frosting with crushed peppermints on a big spoon.

Oh, yes I did do that. Yum.

My mouth just tingles thinking about it!

I have to tell you that this frosting only requires THREE ingredients… butter, chocolate chips and peppermint extract. Or for those who need it to be dairy-free… thick full-fat coconut milk, chocolate chips (Enjoy Life is dairy-free) and peppermint extract.

Can you believe that?! Totally fail-proofed and guaranteed to whip up beautifully, oh yesss. That's my kind of frosting. 

To be honest, I typically shy away from making cakes and frostings. They never seem to turn out well for me, but I wanted to give it a go this time around because…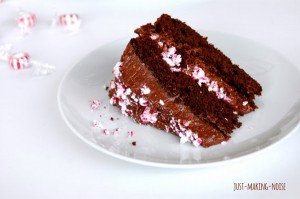 It was for my little man's 3rd birthday.

I had to try!
My girls' had lovely rainbow cupcakes for their birthdays this year and I didn't want him to feel that he wasn't special enough to have a cake too.

Plus, I am a baker, for crying out loud! I should be able to make a cake… and frosting!

Anyway…

He was so excited to have a birthday cake. He kept running up to me and saying, "that's MY birthday cake!" and "that birthday cake is for ME!"… then his face would light up with that adorable grin of his that simply melts my heart and I am so sure it will melt the hearts of many young latina girls in the not-so-distance future!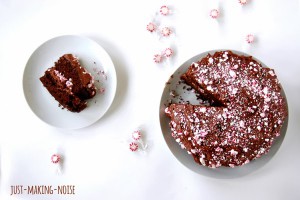 He was especially excited that I was making the cake using two of his favorite flavors… chocolate and peppermint.
Who doesn't love that combination?! Chocolate and peppermint are one of those matches made in heaven… along with chocolate & orange… chocolate & cherry… chocolate & almond…
Okay, pretty much everything tastes amazing with chocolate and my family loves anything with chocolate!
Anyway, the peppermints I used for this cake are from Trader Joe's… brought down via my mother-in-law, but you can buy natural peppermints from this awesome Natural Candy Store. I am planning to doing a little shopping there this week! (psst- if you buy some candy through that link… I will get a $5 gift certificate to buy some candy for my kiddos! Thanks!)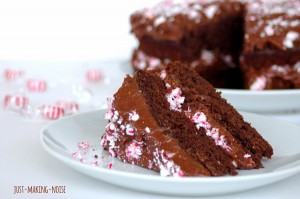 Okay, enough about the chocolate and peppermint.
There are a few other ingredients that really takes this cake up a few more notches, nourishing-wise…
And butter. Lots of butter.
All three ingredients required for a growing little man to keep him strong, healthy and smiling that adorable grin.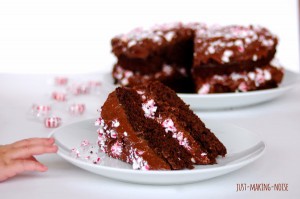 Now, I think it's time to head into the kitchen and make another one of these double-layer Merry Minty Chocolate Peppermint Cake for our New Year celebration… you should do the same. I'm sure you have some leftover peppermint candies lying around that need to get used up  😉


Merry Minty Chocolate Peppermint Cake
(grain-free & honey-sweetened)
3/4 cup coconut flour
1/4 cup arrowroot powder
3/4 cup cacao powder
1 tsp baking soda
1/2 tsp baking powder
3/4 tsp sea salt
8 eggs
3/4 cup coconut oil or butter, melted (plus more for greasing pans)
1 cup honey
1/2 cup milk (regular or coconut)
1/4 cup strong coffee (or coffee substitute)
1 Tbsp apple cider vinegar or lemon juice
2 Tbsp peppermint extract
Chocolate Peppermint Frosting (recipe below)
Crushed peppermint candy
Preheat oven to 350 degrees F.

Grease two 9-inch cake pans and line the bottoms with parchment paper.

Mix together coconut flour, arrowroot, cacao, baking soda, baking powder and sea salt in a small bowl and set aside.

In the bowl of a stand mixer, with whisk attachment, whisk the eggs.

Add oil/butter, honey, milk, coffee, ACV or lemon juice and peppermint. Continue to mix until combined.

Add the dry ingredients into the wet ingredients and mix on low speed until ingredients are incorporated.

Stop the mixer and scrap down the sides (you might need to do this a couple times).

Turn mixer back on and beat on high speed for about one full minute to make the batter fluffy.

Divide the batter between the two prepared pans.

Bake for 25 to 30 minutes. Check at 25 minutes with a toothpick… it should come out with a few moist crumbles. Don't overbake or the cake will be dry. If it is still too moist, bake for another 2 to 5 minutes (the cake was perfect at 27 minutes for me).

Allow to cool on a wire rack for about 10 to 15 minutes. Use a knife to loosen the sides of the cakes from the pans and turn them out onto the wire rack and allow to cool completely.
Chocolate Peppermint Frosting

2 cups chocolate chips
2 cups butter or full-fat coconut milk
2 tsp peppermint extract
In a medium saucepan, melt chocolate chips and butter over medium low heat. Stirring frequently to keep from burning.

When melted, turn of heat and stir in peppermint extract.

Let it cool completely and chill in the fridge until solid.

Remove from fridge and allow it to come to room temperature. You will have to eye-ball this as you don't want it too warm that it becomes more of a gooey mess, but you don't want it too firm that it just balls up inside the whisk.

Scoop the mixture into a mixing bowl and beat on medium for about 2 minutes or until light in color and fluffy.
Using coconut milk:
Chill can of full-fat coconut milk in the fridge overnight. When ready, open can and pour off the water (save it for smoothie or toss out). Scoop only the solid white coconut cream into a medium pot. Add the chocolate chips and follow the instructions listed above.


Putting together the cake (the fun part!):
Carefully move one of the cakes unto a serving plate of your choice.

Top it thickly with Chocolate Peppermint Frosting and sprinkle with crushed peppermint candy (don't be shy with this!).

Carefully put the second cake on top and top it off with the rest of the frosting.

Sprinkle more crushed peppermint candy.

Enjoy!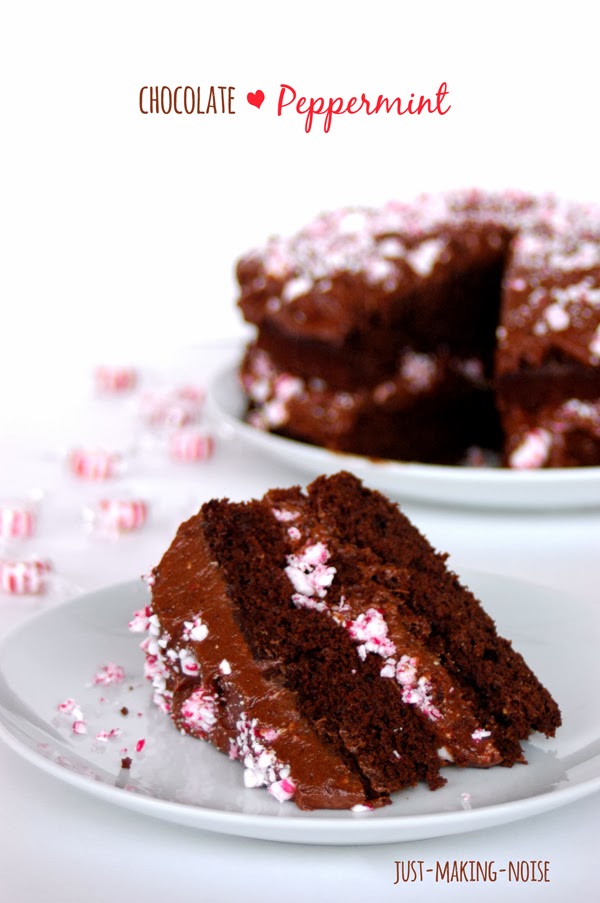 Have a wonderful New Year!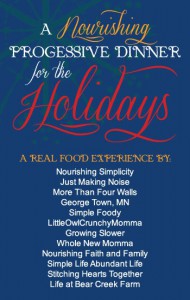 This post may contain affiliate links.
If you purchase a product through an affiliate link, your cost will be the same but I will receive a small commission. The commissions I receive goes to support my family, our ministry and helps keep my blog going. Thank you for your willingness to use the links to support us & help me keep Just Making Noise going!