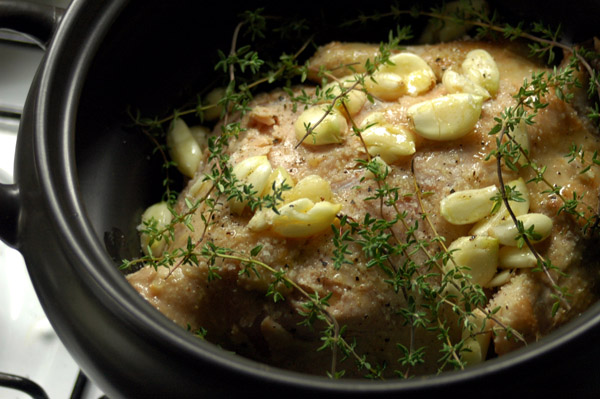 I LOVE garlic! I feel like I could never have too much garlic. I know some people who can't stand the smell or taste of garlic, but I love it. The smell is so warm and spicy… the taste is so rich and satisfying.
Yeah, I can't get enough of this wonderful, immune-boosting herb!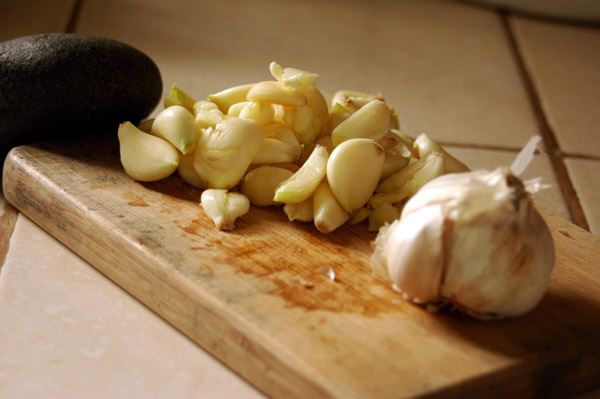 How many of you love a simple roasted chicken with lots of pepper, sea salt and a herb or two?
Now, take it a step further and add 30-40 cloves of garlic… Ahhh! The smells coming out of my oven was amazing.
The taste was indescribably gar-licious.
Of course, I had to save all that good fat in the bottom of my pot. I took all the garlic, fat drippings and mashed it up into a thick gravy-like sauce. 
I usually serve this over rice or baked potato wedges.
Oh man, I need to make some soon… but I will have to wait till Tobi is a little older. Don't want to make his little tummy gassy from all that garlic! LOL!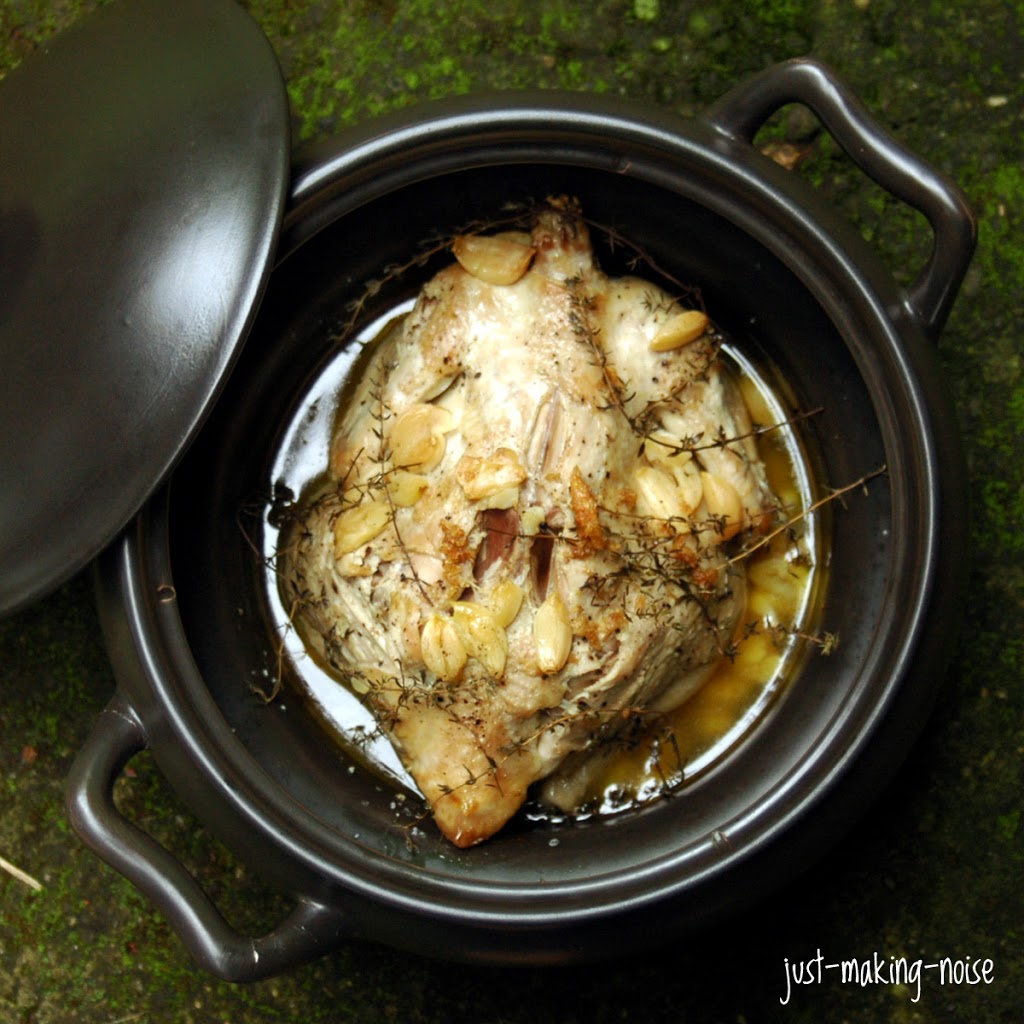 Thyme for Roasted Garlic Chicken
1 chicken (preferably free-ranged)
4-6 whole heads of garlic
several fresh thyme sprigs
2-4 Tbsp coconut or olive oil
Break the heads of garlic. Crush them (using a rock is great) and peel the paper skin off. Stuff about 20 cloves of crushed garlic in the chicken. Put the rest under and on top of the chicken in a roasting pan or pot.
Pull the thyme leaves off the sprigs, but save a few still on the sprigs. Crush them with your fingers. Stuff some inside the chicken and sprinkle the rest over the chicken. Throw in some sprigs on top. (NOTE: If you don't have fresh thyme, dried works great OR/AND you can use your favorite choice of herb.)
Season with sea salt and fresh pepper to your liking. I always use a lot… especially on top where the skin will get crispy. SO YUMMY!
Pour oil over the chicken and cover.
Cook in the oven for 1 1/2 hours. If you would like the skin to be crispy (highly recommend it! It's my girls' favorite part), simply take the cover off and let it cook for another 30 minutes or so. Keep an eye on it so that it doesn't burn!
If you are using the crockpot… do everything above and turn the cooker on low for 7-8 hours or 5-6 hours on high. If you desire to have that crispy skin… turn your oven on to 400 F and take the cover off the cooker. Let it cook until skin is crispy, about 30 minutes.
Next, either discard the thyme sprigs or pull the leaves off and sprinkle on the chicken. Put the chicken on a platter. Scoop out all the garlic and fat drippings. Put in a pan with the flame on low. Mash the garlic as much as you can and add in a little arrowroot or flour to thicken the sauce.
Serve with rice or potato wedges and a big salad!