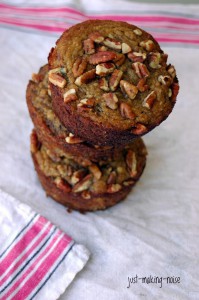 I am happy to FINALLY pull these yummy guys out of my files. These easy, delicious muffins are great to travel with! I've made these the last few times we've traveled and love how nutritious these guys are. Full of fiber and protein, yet lightly sweet to satisfy the sweet tooth… these muffins are fantastic alternatives to the awful, expensive airport food.


Dairy-free, sugar-free, gluten-free and wheat-free… these guys are so good that you wouldn't even know that they are so healthy too! Each bite just simply melts in our mouths. The last time I made these guys… I chopped up some dark chocolate chips to throw in and it was the perfect touch. You can skip the chopping if you want small gobs of chocolate, but we like the tiny bits and how it spreads evenly throughout the muffins… giving us more chocolate with each mouthful :o)


I usually use coconut oil when I bake, but I have a bucket of palm shortening left from my review and wanted to try it out in baking. I noticed that these muffins were very moist and soft when I used the palm shortening… plus if you are not a big fan of the coconut flavor, palm shortening is a good alternative because it has no flavor.


I usually like to use very ripe bananas and only need 1/3 cup of the coconut sugar paste to lightly sweeten the muffins, but if the bananas are not very ripe… then I increase the sweetener little by little till I get the perfect amount of sweetness. You can use raw honey or other for your sweetener, but I love the coconut sugar for its caramel-like flavor, low GI count and rich source of vitamins and minerals… learn more about this fantastic sweetener!


Now, I want to go whip up a batch of these guys!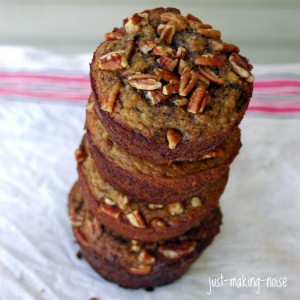 Chunky Monkey Muffins (Gluten-free)




1/2 cup coconut flour

1/2 tsp sea salt
1/2 tsp baking soda
6 eggs
1/3-1/2 cup coconut sugar paste or honey
1/3 cup melted palm shortening, coconut oil or butter
1 Tbsp vanilla
3/4 cup mashed bananas
1/2 cup chopped crispy pecans
1/3 cup coconut flakes
1/3 cup chopped dark chocolate




Preheat oven to 350 F and greased the muffin pans.

In a small bowl, mix together coconut flour, sea salt & baking soda. In a large bowl, mix together eggs, coconut sugar, palm shortening, vanilla. Mix the dry ingredients with the wet till thoroughly mixed. Fold in mashed bananas, pecans, coconut flakes and chocolate. Scoop batter into muffin tins to 3/4 full, top with more pecans (optional) and bake for 20-30 minutes. When done, let it cool and serve with a big glass of milk!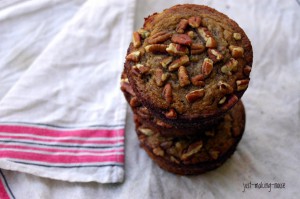 Please share with me some of your favorite traveling foods!! Hope you will enjoy these guys as much as we do. Let me know what you think and have a wonderful week! Hugs!