Wow, time is flying by and it is almost time for my family to go back to Honduras. We've been so blessed during our time here, but we are ready to be back in our home & routine  :o)
There are many things l enjoy while being in the states during the late summer and early fall… catching up with family & friends, eating ripe tomatoes picked fresh out of the garden, apples coming into season, nice long conversations with my hubby while on the road, exploring new things with my kids, enjoying the amazing variety of pumpkin & squash, watching the leaves change colors and baking yummy desserts with cranberries, apples & pumpkin.
Which brings me to my Cranberry-Oatmeal Crumble Bars…
While we were on the road back in September I saw that my friend, Diana from Spain in Iowa, posted some yummy looking Oatmeal Jam Bars that are much like my crumble bars. 
Inspired by her recipe, I changed the sweetener in my crumble bars from raw sugar (rapadura/sucanat) to honey and pure maple syrup. I must say I will never use raw sugar again! 
I just love how the raw honey & maple syrup blended nicely with the oats, flour & fruit… bringing out the natural sweetness of the oats and complimenting the flavor of the fruit.
These crumble bars are simple & quick to make… which makes them a fantastic "last-minute" dessert for any occasion! Over the years I've made them with blueberries, rhubarb (which is actually a veggie), cherries, raspberries, blackberries, strawberries, apples, mangoes… here I am using cranberries for the first time and love it!
The vibrate red color and wonderful tangy flavors will sure be a hit at any potluck or Thanksgiving meal!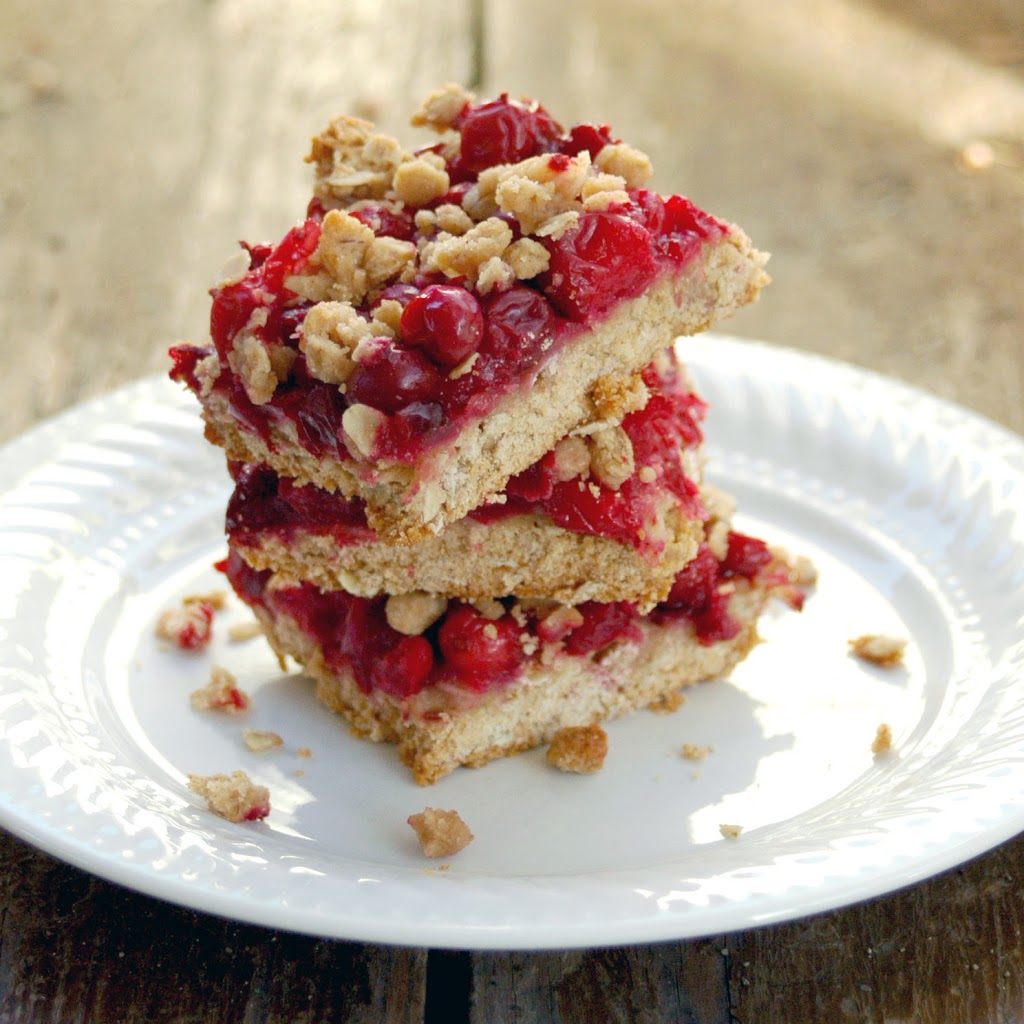 Naturally Sweetened Cranberry-Oatmeal Crumble Bars
Crust & Crumble:
2 cups whole white wheat flour
3/4 cup butter and/or coconut oil, melted
Preheat oven to 350F and butter a 9×13 baking pan.
In a large bowl, mix together flour, oats, cinnamon, salt and baking soda. Add in the butter and/or coconut oil, honey, maple syrup & vanilla. mix together until well combined. Scoop about half or more into the prepared baking pan and press the mixture down firmly. Set aside the rest for the crumble topping.
Cranberry Filling:
4 cups cranberries, fresh or frozen
1/3 – 1/2 cup raw honey (can add more if you want it sweeter)
2 Tbsp arrowroot powder or non-gmo cornstarch
In a medium pot, pour in honey, arrowroot powder and salt. Stir until combined. Add in cranberries and turn heat on medium low. Mix together the honey and cranberries until well coated. Cook for 2-3 minutes and turn off heat. Spread cranberries over the crust and sprinkle evenly the remaining mixture over the cranberries.
Bake for 25-30 minutes. The top should be golden brown when done. Allow it to cool for 10 minutes (if you can wait that long!) and enjoy with some fresh whipped cream or ice cream.
These bars can be kept at room-temp in a sealed container for up to a week… not that they will last that long anyway! Enjoy  :o)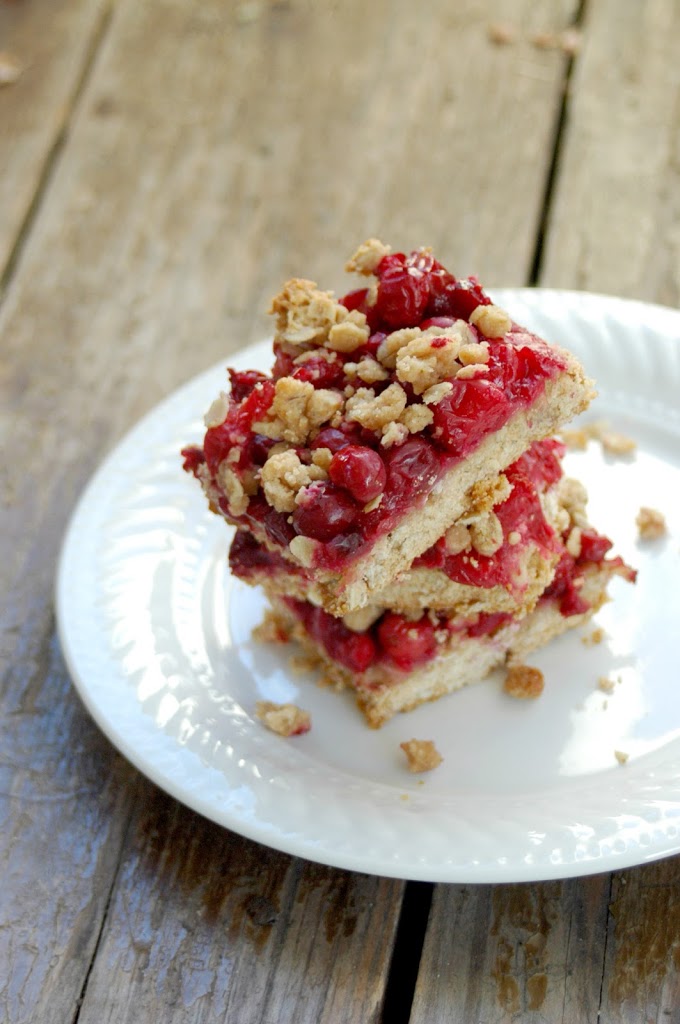 I would love to find a way to properly prepare the grains by soaking or using sourdough somehow. I bet using sprouted flour would work great!

Any thoughts on how to make these beautiful bars even more nutritious? What fruits would you use to make these crumble bars?

Shared at Simple Lives Thursday & Real Food Wednesday