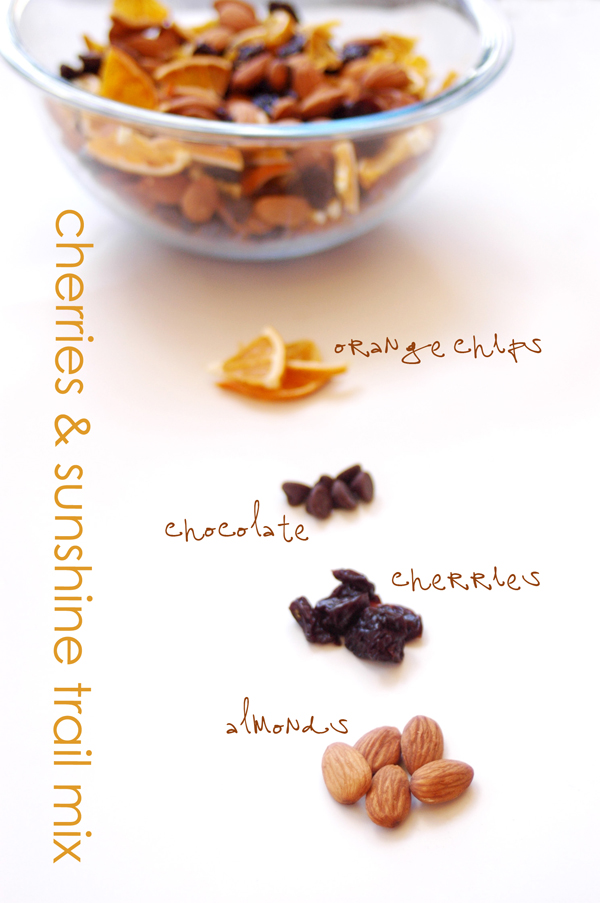 There's nothing like homemade trail mix.
The crunchy & sweet mixture of nuts, dried fruit & (sometimes) chocolate makes a great snack to carry along and take the edge off when the hunger strikes. Especially when you have 3 little ones with needed energy to burn!
But I find that pre-made trail mix lack freshness and there's almost always something in the mix that we don't really like or not in the mood for or might contain too much sugar.
So, the solution would be for me to make our own personal blends. It's super easy, much cheaper than the pre-made stuff and I can make it to match our tastes & moods.
Another benefit of making your own is being able to soak & dehydrate your nuts to make them more nutritious and easier to digest. Yes, it is another thing to do… but easy and simple when you plan ahead.
I find that raw nuts & seeds don't taste that good… to me, they have this bland, waxy flavor that just doesn't appeal to me. Even my kids don't really like to eat them raw! I sometimes get headaches and feel bloated if I eat too much raw nuts & seeds. That's a sure sign that my body is not digesting them well and can lean to nut allergies. Thankfully, soaking and dehydrating them takes care of that issue.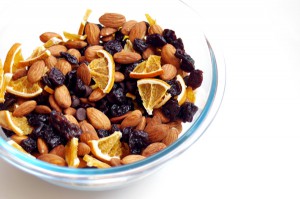 With orange season in full swing… I dried a few pounds worth of orange slices and wanted to find ways to use them other than making orange powder.

Sometimes I like to eat a few dried orange slices when I'm in the mood for something tangy and if I want to tone down the tangy bite, I throw in some chocolate chips. Hmm!

Then one day, dried cherries and almonds got thrown into the mix… and that's how I came about with this delicious trail mix.

As you can see below, my little man couldn't keep his hands out of the bowl (or the picture!)… he was trying to get all the chocolate chips. Swiper!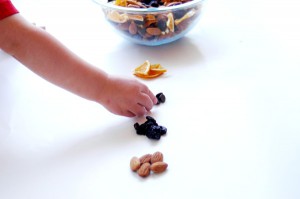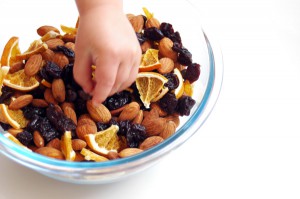 My kids really enjoy this mix. Of course, they go for the chocolate first :o)

I LOVE this mix because cherries are my favorite and when mixed together with dried oranges, almonds & chocolate… it is simply delicious.

If you are not a fan of cherries (like my hubby), you can use cranberries instead… just don't tell me if you do that ;o)

I have other blends of trail mix that I will (hopefully) share with you later, but for now… let's make some Cherries & Sunshine Trail Mix!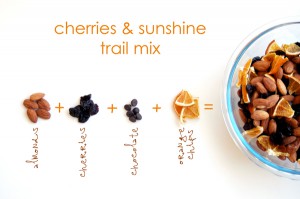 1 cup dried cherries
1/3 – 1/2 cup dark or semi-sweet chocolate
Break the dried orange slices into pieces. You can remove the peel and just throw in the flesh part, but I enjoy eating both peel & flesh. Mix the ingredients together in a big bowl and store in an airtight container. Stores well for several week.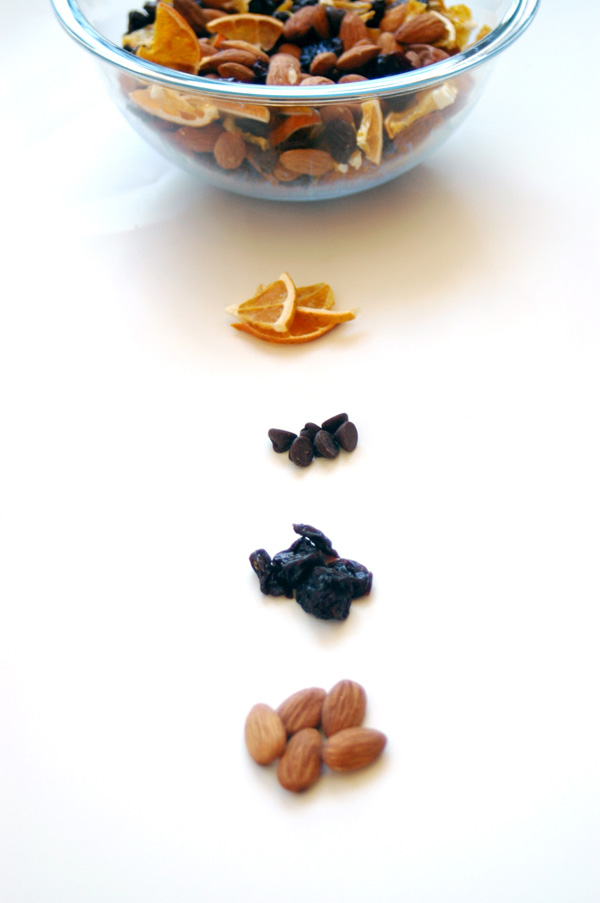 Do you like trail mix? What blends do you like? Please share in the comments below!