Christmas is almost upon us! Wow, time just flies. It has been so fun doing the Truth in the Tinsel advent ebook this year. My girls are really enjoying the crafts and doing a great job of summarizing the story leading to Jesus' birth. I'm already looking forward to next year's advent… I'm thinking of finding something new to change it up.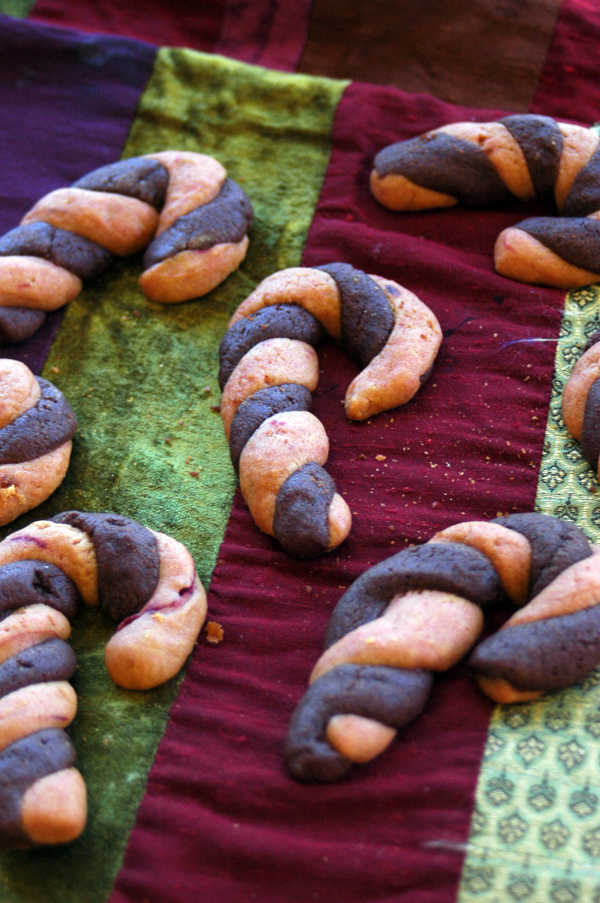 This past week I attended a cookie exchange party hosted by some missionary friends in the city. It was nice to enjoy some much-needed fellowship, catch up with friends and make some new friends.
It took me a while to decide what cookies to make and it had to be simple, easy to travel
& healthy.
I googled around and decided to make candy cane shaped cookies using chocolate peppermint cookie dough and plain cookie dough colored with… b
eet powder.
Yep, you read that right… beet powder.
Now, don't make the yucky face… I know what you are thinking. They did not taste at all like beet!
I was VERY surprise. I was expecting at least some beet flavor, but… nada!
The beet powder did a good job of giving the plain cookie dough a light pinkish color. Even my girls were thrilled to have some "colored" cookies!
If my girls liked them… I'm sure you will too!
These cookies were lightly sweet, buttery and chewy. I'm sure some frosting on top would be delightful. Also,
If you don't have any beet powder… skip it and enjoy white dough!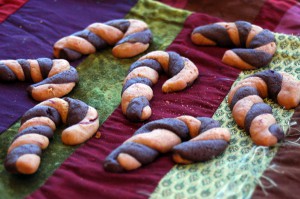 My family and I wish you all a very beautiful Christmas and a wonderful New Year to come!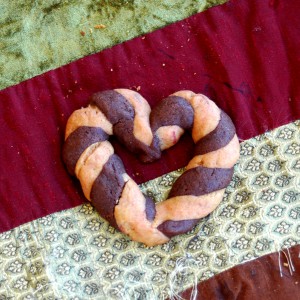 Chocolate Peppermint Twist Cookies
(honey-sweetened & naturally colored)
makes 80-90 small cookies
3 3/4 cups whole white wheat flour or all-purpose flour
2 sticks cold butter, cut into chunks
3 1/2 cups whole white wheat flour or all-purpose flour
2 sticks cold butter, cut into chunks
1-2
tsp peppermint extract
In a medium bowl, combine the dry ingredients.

In a mixer, cream the butter and honey. When creamy, add the eggs and extract. Once combined, slowly add the flour mixture and beat until just combined. Scrape the bowl and don't overmix.

Pull together the dough and scoop it out onto a lightly floured surface. Knead the dough together into a log shape and wrap it up in plastic wrap. Let it chill in the fridge for 1 hour.

Repeat with chocolate dough.

Preheat oven to 350F. Lightly greased cookie sheets.

When chilled, pull both doughs out and cut slices. Roll out each slice into long ropes. Do the dough in batches and keep the extras in the fridge to prevent the dough from getting gooey.

Put together the ropes of red dough and chocolate dough. Cut the ropes about 4-5 inches long. Twist and press together gently to prevent the dough from tearing.

Shape dough into candy canes or any shape you want.

Place on greased cookies sheets and bake for 10-15 mintues.

When done, let the cookies rest on the sheets for a few minutes before transferring them onto a wire rack to cool completely.
Now I am curious to know what other foods I can use to naturally color my baked goods! Any suggestions and ideas?