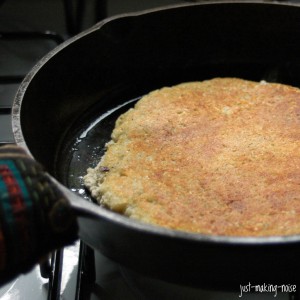 These Costa Rican corn pancakes has become a favorite in my family. Very quick and easy to make, especially if you have lots of fresh corn in hand. There are three different ways you can prepare these corn pancakes: sweet, plain or cheesy. I've done all three and liked each one, but I've made the plain version often because we love all the toppings we can put on it.
I need to clarify something… here they eat their corn pancakes with lots of sour cream, but we've made it our own way: Mexican style… oregano and garlic in the batter, fresh tomatoes, cilantro, bean paste, salsa, hot pepper, onions, cortido, sour cream, cheese, avocado and so on. We call it "chorredas bar"… where we set up all the toppings on the table, serve the pancakes and "build" it up the way we like it :o)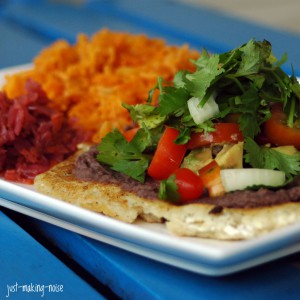 Chorreadas: Costa Rican Corn Pancakes




4 cups fresh corn

1/4 cup milk or water

1 tsp. salt

2-4 garlic cloves, crushed

2 Tbsp. oregano

Oil




Whirl everything (except oil) in a blender till smooth. Pour into a bowl and warm oil in a cast-iron pan on medium-high heat. Scoop out 2 spoons full into the pan and spread into a circle like pancakes. Lower heat slightly, let it brown lightly (about 2 minutes), flip it over and cook till golden. Put aside on a plate covered with a towel to keep warm and keep making more till the batter is gone.




It is great for breakfast, lunch, dinner or as a side dish. Serve with cultured sour cream or your choice of toppings! Simple, easy and tasty.




SWEET version: omit the garlic and oregano. Add 4 Tbsp. of your choice of liquid sweetener or 1/4 cup sugar.

CHEESY version: before flipping the pancake, sprinkle your choice of cheese on top and flip it. Make sure your pan is well greased to keep the cheese from burning into your pan.



Another thing I love about the corn pancakes is they can be made dairy-free and totally vegan. These are also wheat-free, but I know some of you might be sensitive (like my mom) or allergic to corn… but to those who can enjoy these, get back to me and let me know what you think!