As a little girl I never liked oatmeal and would go out of my way to avoid it. I always felt like I had a brick or two in my stomach because it would feel so heavy after eating even a small bowl of quick or rolled oatmeal.
Now I enjoy my oatmeal porridge immensely because I've learned the
correct
way of preparing it.

We have soaked oatmeal (porridge) at least twice a week. It is a great frugal and filling way to start the day. Remember my post on soaking grains? By soaking the oatmeal overnight with a splash of whey, kefir or lemon juice, not only are you reducing anti-nutrients, increasing benefits and increasing assimilation, but your oatmeal will be ready in minutes in the morning. Truly an instant oatmeal and done the old fashioned way!



In America the pioneers were famous for their sourdough breads, pancakes and biscuits; and throughout Europe grains were soaked overnight, and for as long as several days, in water or soured milk before they were cooked and served as porridge or gruel. (Many of our senior citizens may remember that in earlier times the instructions on the oatmeal box called for an overnight soaking.) -Nourishing Traditions



My favorite toppings for my porridge is fresh mangos, dried cranberries, pecans, freshly ground flaxseed, cinnamon, honey, a big scoop of coconut oil, egg yolk and splash of fresh milk.
Very filling, nourishing and delicious!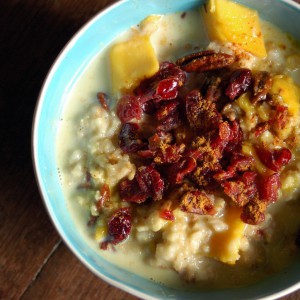 1 cup oats, rolled or cracked

1 cup warm water

2 Tbsp. whey, yoghurt, kefir, buttermilk, lemon juice or apple cider vinegar

1/2 teaspoon sea salt

1 cup water


Mix oats with warm water and acid medium, cover and leave in a warm place for at least 12 to 24 hours (or overnight).Bring additional 1 cup of water to a boil with sea salt. Add soaked oats and bring to a light boil. Reduce heat, cover and let it simmer for several minutes. Remove from heat and let it sit for a few minutes.


Serve with plenty of butter or cream* and a natural sweetener like Rapadura, date sugar, maple syrup, maple sugar or raw honey. You can also add fresh fruits, chopped nuts, dried fruits, egg yolks, spices (cinnamon, nutmeg, etc.), coconut flakes and/or freshly ground flaxseed.


*NOTE: The porridge goes very well with butter or cream (coconut oil, too), whose fat-soluble activators provide the necessary catalyst for mineral absorption.