Wow, that's a mouthful… and a good mouthful too!
A while back, my dad requested that I make him some oatmeal pancakes and I told him to find me a recipe because I didn't have a clue how to make strictly oatmeal pancakes the way he wanted. He came up with a few recipes from different food blogs, but one in particular from Simply Recipes grabbed my attention because it was simple and required soaking. I made several changes and decided it should be renamed it for my dad. Love you Daddio :o)
These pancakes were deliciously fluffy and full of flavor. I prefer to chop up the raisins because I personally don't like big gobs of raisins in my pancakes. I liked how there were little bits of raisins evenly mixed into the pancake batter… leaving a good balance of sweet and chewy. These pancakes are very frugal, easy to make and a nice change from oatmeal porridge.
Remember, the longer you soak the oatmeal… the more you will be able to easily digest and assimilate the nutrients. I loved how the buttermilk gave the pancakes a slightly sour tang after I soaked it for 24 hours. You can use cultured dairy buttermilk or buttermilk leftover from making butter. It almost tasted like I was eating sourdough pancakes… yeah, it was good and I will be making these for Christmas morning!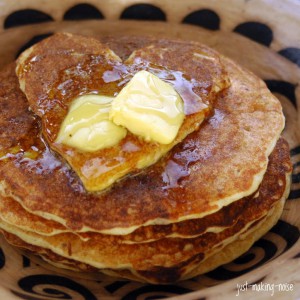 Daddio's Oatmeal Cinnamon Raisin Buttermilk Pancakes




2 cups Old Fashioned Oats

1/2 cup whole wheat pastry flour

3 cups buttermilk (I used buttermilk leftover from making butter)

Put oats & flour into a large bowl, add the buttermilk. Let them soak in the buttermilk overnight or up to 24 hours.




3 eggs, well beaten

1 1/2 tsp baking powder

1/4 tsp sea salt

2-4 tsp cinnamon

1/2 tsp nutmeg

1 Tbsp coconut oil, melted

1-2 Tbsp raw honey

3/4 cup raisins, chopped finely (if desired)

Butter or extra coconut oil for the griddle

Mix in the eggs, baking powder, salt, and coconut oil.


Heat a flat iron surface – griddle or large pan – to medium high heat. Oil the pan with butter or oil… make sure to turn down the heat if it gets too hot. Ladle the pancake batter onto the griddle to the size you want. When air bubbles start to bubble up to the surface at the center of the pancakes (about 2-3 minutes), flip them over. Take a peek under them for doneness in a minute or so. When golden or darker golden brown, they are done.




Remember that cooking the second side takes shorter time then the first side and the second side doesn't brown as evenly as the first side. Serve immediately or keep warm in the oven until ready to serve.




Dress up your pancakes with butter, maple syrup or honey & your choice of fruit if desired.




We had a wonderful time with Jon's parents exploring the Caribbean. I honestly wanted to stay a few more days because there was so much to see! We met many wonderful people, learned so much and saw some awesome things. I was especially excited about the large organic community in Puerto Viejo and the surrounding areas. Stay in touch!
Now, enjoy your day and Merry Christmas!!