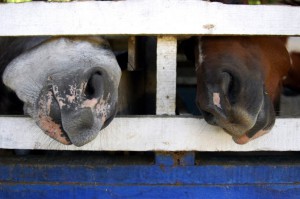 The essential joy of being with horses is that it brings us in

contact with the rare elements of grace, beauty, spirit, and fire.



I've loved horses almost my whole life and still do. Every time I visit these two guys that live in the barn next to our house… I'm swept away by vivid memories of the past… the horses I've rode, the wonderful smells, the competitions, the disappointments, the joy & happiness and
feeling the weight of the world melt away while I'm on my horse.
I seriously miss the awesome feeling of the horse jumping over 4 – 5 feet high fences and the powerful surge that takes my breath away each time… the thrill never dies. Once you've experience that thrill… you can't get enough of it.
When I'm on a horse… riding or jumping… I feel like I'm flying. These beautiful creatures
lend us the wings we lack.