Growing up, french toast was always a 'once in a while' special treat that my mom made. Now I make it almost every Saturday morning. How can I not?! It is sooo yummy, comforting and a nice break from the week of breakfast smoothies, eggs, veggies, toast and oatmeal.

I have tried many different recipes and finally had to create my own version. I adore the rich, creamy, chunky feel from the sauce and crispy, flaky texture of the bread. I hope you will enjoy this as much as I do!!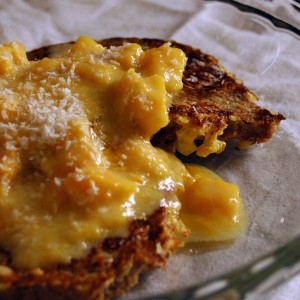 Coconut French Toast with Honey Mango Sauce
Makes 4 servings
2 cups chopped mango
1/2 cup plain yogurt (or kefir)
1/4 cup raw honey
-Combine mango, yogurt and honey. Set aside.
4 free-ranged eggs
1 cup coconut milk* or regular milk
2 tsp. vanilla
1/4 tsp. fresh nutmeg* (plus extra)
8 slices whole wheat bread (or bread of your choice)
4-6 Tbsp. Coconut oil (or butter)
-Start warming skillet with coconut oil. Mix together milk, eggs, vanilla, nutmeg and coconut flakes. Soak bread slices in mixture for 10 seconds (or longer, depending on the thickness of bread) on each side. Make sure skillet is nice and hot. Move soaked bread onto the skillet and heat till golden brown on both sides. Serve with a spoonful of sauce on top. Sprinkle it with extra coconut flakes and nutmeg. Enjoy!!
*
If using coconut milk:
The milk sometimes comes out thick from the can. Thin it down with a little water to match the consistency of regular milk OR don't worry about it ;o)
*
Fresh nutmeg:
Find whole nutmegs and grate them when needed. The smell and freshness will make you never touch ground nutmeg again. Oh yes it is
that
good!