If you are like me… you probably make porridge a couple times a week, right? Do you make each batch fresh? I don't!
I usually like to soak 4-6 cups of oatmeal to make a large pot of oatmeal porridge once every week. Of course, soaking it first overnight or up to 24 hours for optimal nutrition.
Then I always have at least enough leftover for another morning of oatmeal.
Leftover oatmeal makes an even quicker breakfast in the mornings when you gotta get going or if the hubby has to make breakfast. Oatmeal porridge stores really well in the fridge for a long while. I've accidentally left a container of oatmeal porridge in the fridge for longer than 2 weeks a few times and it would be just fine!
But…
There are days when oatmeal porridge just doesn't sound appealing (even with toppings and all!), but its really all you've got at hand… had those days before?
I've had mornings where I am looking at a big container of leftover oatmeal and can't really bring myself to warm it up, but what else is there to eat?! Eggs… not enough. Toast… nada. Pancakes… no time.
There are days where I am looking at only 3 eggs and my girls are crying because we are having oatmeal again and they want eggs.
Then one morning, it hit me… Pancakes! Duh!
Now, that got my girlies happy again. Who doesn't like pancakes?! Plus, it only requires 2 main ingredients… eggs and porridge. For every cup of porridge you will need 1 – 2 eggs (I usually use 2, but my hubby has done it with one egg). Then you can add in spices and fruit, if you like. Simple and easy!
Not only is porridge pancakes good for breakfast, but it is a fantastic mid-morning or afternoon snack. You can use any kind of porridge you have on hand. So, make sure you make extra porridge next time you cook up a batch for breakfast!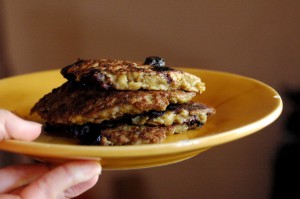 Porridge Pancakes
2 cups porridge

2-4 eggs

sea salt

spices

fresh or dried fruit

coconut oil or butter
Measure our roughly 2 cups of porridge and break it up as much as possible. Add in eggs and continue to break up the porridge until smooth and completely mixed in. If you don't get the eggs well incorporated into the porridge, the pancakes will not hold together well. You can use your KitchenAid Standing Mixer or a hand mixer for this job… it will get it done much quicker. Or if you don't have either, which I didn't for a long time, just use some good arm action!
Add in a few dashes of sea salt, spices and your choice of fresh or dried fruit. Stir until combined.
Warm up your cast-iron pan and add in your choice of oil or butter. Allow the pan to get hot before getting started with the batter. Don't make the pancakes too big or they might fall apart while flipping it over. Best to make them mini-pancakes.
These pancakes take a little while to cook, so be patience. Don't flip them until the edges are brown and crispy. Once you've flip the pancakes, it should take less time for the second side to cook.
You should get about 6-8 small pancakes out of this. Enjoy with some real maple syrup or raw honey!