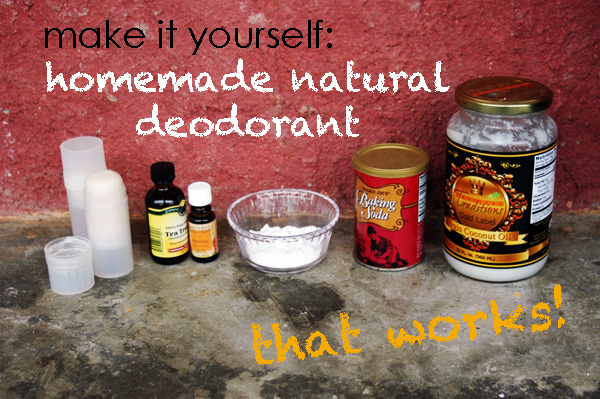 When we first started out the road to living more naturally… one of the first things to go was the deodorant.
The Stinky Story
It was a bold step for us at the time and we were really nervous about the stinky body odor that was surely going to follow us around for a while.

We learned that eating a good, clean diet and drinking plenty of water can help cut down the BO, but sometimes you need a little extra help. We all know that the commonly used antiperspirants work pretty good for the most part, but that's if you don't care about all the aluminum that is being soaked into your body via the stinky armpits and how it prevents you from detoxing naturally through your sweat.

For those of us who care and want a more natural option… the choices are many, but very few actually work. Some even have aluminum and other yucky ingredients even though the product is supposed to be "natural".

I share this from personal experience, as a woman who rode (and still does when not pregnant!) horses, loves to work hard and likes a good sweat.

Sweat is not something I gross out about, but body odor… I do.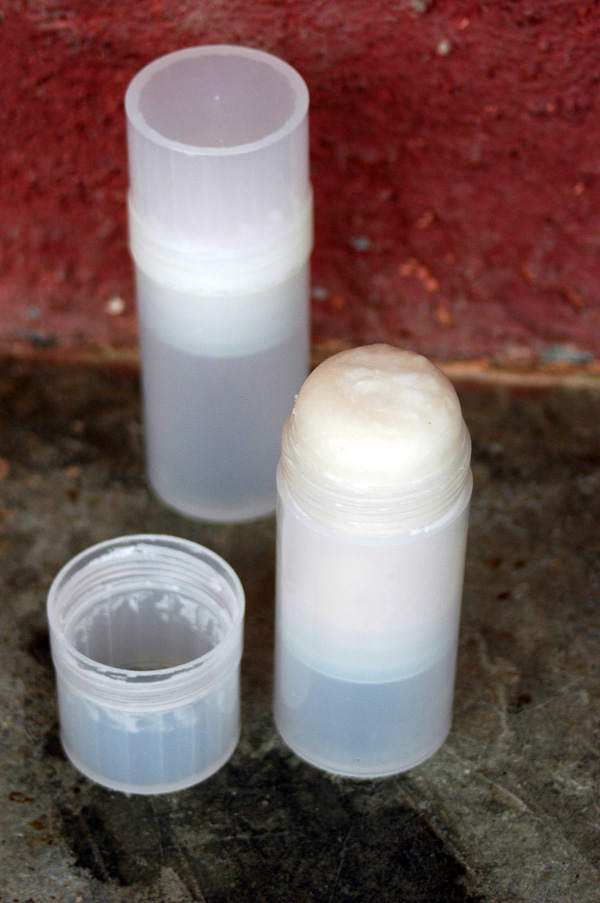 When Jon and I first threw away our conventional deodorants, we started out trying the Thai Crystal Deodorant Stone and it worked great… but for only a year or so before we started to really stink enough to try something different.

Out went that deodorant and in came the Crystal Body Deodorant… same idea as the first one, but supposedly better.

Same results… we still stunk like BO and it was getting really embarrassing.

Saved by the Powder
What were we gonna do?!  Sweat like a stinky horse?! Thankfully, I learned of a homemade version using baking soda, arrowroot or cornstarch and essential oils.

This powder deodorant saved us from the embarrassment of BO. It was kind of messy getting it on, but we weren't complaining!

We used it for a couple years, but just recently I decided to change it up and add in coconut oil because we were tired of getting powder everywhere.

After trying different variations… I had to make two different kinds. We found out the painful way that my hubby cannot have essential oils in his deodorant because it causes him to break out in a rash. As for me, I use essential oils with no problems… the rosemary is my favorite! Word of advise, try a small amount before making a batch to see if you can tolerate essential oils on your armpits.

Through that whole process I found that using plain coconut oil works fairly well. You can do that if you don't really want to make your own deodorant. My hubby did that for a while to let his pits heal up, but he felt like he need a little more power and so I made him a plain version of mine.

Try and see what works for you.

The Ingredients
I will share the powdered recipe along with the recipe for the solid form of deodorant below. Both work great, but we prefer the solid deodorant for obvious reasons.

A few things to keep in mind when making your deodorant… where we live is cool enough that we can keep the deo in a deodorant stick without worrying about it melting. If you are in an area where is it hot or concern about it melting… simply pour it into a small jar OR add a couple tablespoons of beeswax and/or shea butter. You will have to melt them all together using the double boiler method before adding in the dry ingredients and essential oils.

Essential oils… I highly recommend that you use a little bit of tea tree along with your favorite essential oil(s). The tea tree is anti-bacterial and paired up with coconut oil makes a nice double kick against the stinky odor-causing bacteria.

I like to buy all my ingredients from Mountain Rose Herbs, Amazon, Vitacost and/or Tropical Traditions. I know my essential oils shown in the pictures are not from Mountain Rose Herbs… they were gifts from friends and I appreciate them!

I have found that Mountain Rose Herbs' essential oils are of excellent quality… I still have some that I bought over 2 years ago and they work great!

Alright, enough chatter, let's get to work making…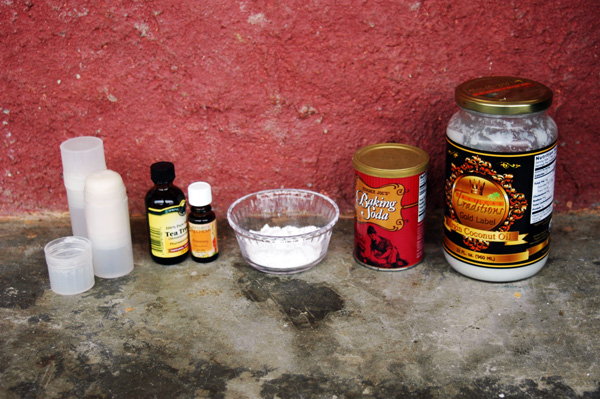 Homemade Natural Deodorant that Works!
Solid Form:
Mix arrowroot powder & baking soda together in a medium bowl.

Mash in 6 Tbsp of coconut oil with a spoon until well mixed. It should be creamy with a slightly dry texture. If you need more, add 1 Tbsp at a time.

Add in essential oils, if desired. You will need about 10 – 15 drops total for each batch.

Store in a small glass jar or deodorant container (will need to melt gently first and pour in).
Favorite Essential Oil Combinations:
tea tree and rosemary
lavender and orange
lemon, lavender and frankincense
tea tree and lavender
yland yand and orange
peppermint and lemon

Favorite Single Essential Oils:
Tea Tree
Pine
Peppermint
Lavender
Rosemary
Frankincense

Extras:
— Add 2-3 capsule of probiotics (pull the cap apart and add powder in with dry ingredients).
— Use cocoa butter or mango butter instead of shea butter.

Powder Form:
6 Tbsp arrowroot powder
4 Tbsp baking soda
Essential Oils
Mix arrowroot powder & baking soda in a small bowl.

Add essential oils of your choice (recommended amount above).

Store in a glass jar and use a blush brush to powder your armpits.
One More Thing…
Something to keep in mind, when you first start out using natural deodorant… your armpits are going to sweat a lot at first, but they will dry out over time has your body adjusts to being able to sweat naturally.
Remember, antiperspirants plug up your sweat glands and the natural deodorant is basically helping "unplug" them. Think of your glands all swelled up like little balloons with yucky toxics that need to get drained out.
So, don't freak out if you sweat a lot in the first couple weeks… that's a good sign that your body is detoxing and getting back to normal function!
Have you tried making your own deodorant with success? What are you favorite scents? Share below!
This post may contain affiliate links.
If you purchase a product through an affiliate link, your cost will be the same but I will receive a small commission. The commissions I receive goes to support my family, our ministry and helps keep my blog going. Thank you for your willingness to use the links to support us & help me keep Just Making Noise going!