Remember my post a while back about our new favorite snack? Those crunchy, delicious little balls that are so healthy & addictive?!

Well, my girls and I had this crazy idea to pour some roasted chickpeas in a bowl and try it with some milk…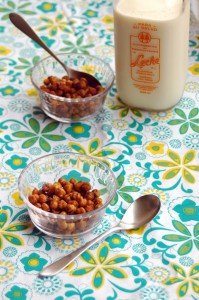 After one bite, we were hooked. The delicious sweetness swirled through the milk and the best part… the little guys stayed crunchy to the very last bite!

I've never eaten Captain Crunch cereal growing up (my good mama didn't allow that stuff in the house), but I really think that these sweet roasted chickpeas deserve that title, not those sugery, processed bits they call a healthy cereal!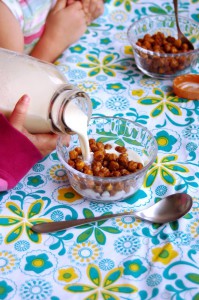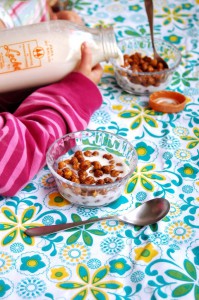 Processed cereal is a no-no in our house. So, for me to make homemade cereal is a real treat for the family… especially for me! I'm sure most mamas like me would appreciate having the morning off from making breakfast once in a while, right?!

For a couple years now, I've made homemade cereal using my ready and soaked oats. We enjoyed it for a time, but I've stopped making them because I felt like I couldn't properly digest the rolled oats even though they were soaked. I read that oats needed to be soaked and cooked to properly break it down. Drying the oats does not count as cooking it. I also noticed that my girls didn't seem to enjoy them like they used too.

So, cold cereal basically went out the window for a while… But now it seems to be making a comeback with these little guys and I am thrilled!

I even googled "homemade chickpea cereal" to see if anybody had the same idea… so far, none! So, this idea makes it possibly the world's first! That's a rare accomplishment with all that we can find on the internet these days.
Here's the Sweet Little Sister… chomping and slurping away!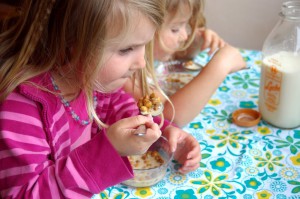 This new homemade cereal has been kid-tested and kid-approved!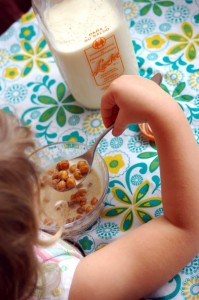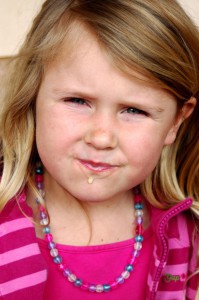 Here's the beautiful Big Sister… proudly wearing her milk beard.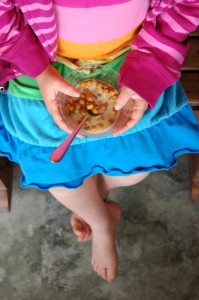 To enjoy a bowl yourself… simple follow the recipe for making a batch of Sweet n' Crunchy Roasted Chickpeas (4 flavor varieties).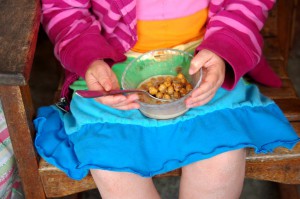 When roasted chickpeas are ready, simply scoop some into a bowl and pour fresh milk over them.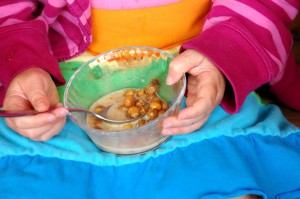 Sit back and enjoy the crunchy goodness!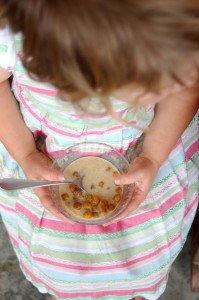 Shared @ Friday Food Flicks, Fight Back Friday, Monday Mania & Simple Lives Thursday