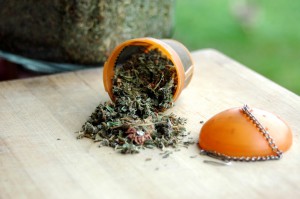 I love drinking my pregnancy tea everyday! I keep a pitcher of this wonderful stuff in the fridge ready to go whenever I need it and often have to make a double batch because my family loves to drink it too. The flavor is so delicious and lightly sweet that I rarely add honey or stevia when enjoying my quart for the day.
I did not drink any kind of pregnancy tea with my first baby, but was introduced to it to by my 2nd midwife when I was pregnant with Tabitha (my 2nd). She had her own pregnancy tea recipe and made it for all her mamas. I was hooked on it from my first drink and I loved how it made me feel!
So, when I became pregnant with Tobi (baby#3)… I knew I had to get that recipe from her and after doing more research, decided to add in 2 more herbs to create a more potent tea to improve overall health of myself and baby, thus the name "Super Happy Belly Tea" was born!
The Ingredients & Its Benefits
Below you will read all the amazing benefits these herbs provide to improve overall health for the mama and baby! Most midwives will say that it is better to drink this special tea instead of taking prenatal vitamins because our bodies absorb the nutrients from herbal teas more easily than from vitamins. However, I did both… but that is for another "note" post in the near future 🙂

Now, before you read on, I have to say this for legal reasons… consult your midwife or doctor about any changes you make to your diet while pregnant. Herbs can cause interactions with pharmaceutical drugs, and just because they are natural, does not mean they are safe for everyone. With that being said, the use of herbs in pregnancy has a long, safe record in human history!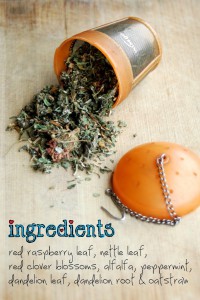 Red Raspberry Leaf: This herb is every pregnant mama's best herbal friend! It is the best single herb that we can take for total uterine health. There is a long list of vitamins, minerals, and nutrients that the uterus needs to work efficiently. Red Raspberry Leaf has basically all of them! It is filled with essential minerals and vitamins like magnesium, potassium, phosphorus, vitamin C, E, A and B complex. It also contains easily assimilated calcium and iron. This mama's best friend increases fertility, tones the uterus, aids in easy birthing, restores the womb after birthing, helps prevent miscarriage, reduces morning sickness, soothes muscle/leg cramps and backache, and counters fatigue. This herb is not only great for mama and baby, but for the whole family… read more here!
Nettle Leaf: You will find that nettle supplies amazing amounts of energy! It is rich in chlorophyll, a significant source of vitamins A, D, C, B, and K, bio-available minerals, including huge amounts of calcium, magnesium silicon, and potassium chloride; protein, and dietary fiber. It prevents folic acid anemia and iron deficiency anemia, and is also a digestive aid, a strengthener to the lungs, an ally of the kidneys, and a restorative to the hair and skin. It has the ability to increase the efficiency of liver and kidney function, which very important during pregnancy. It also helps prevent varicose veins and hemorrhoids, eases leg cramps and backache, reduces the incidence of hemorrhage after birth, and increases the richness of breast milk.
Red Clover Blossoms: This is a herb that you may encounter as not recommended for pregnancy. I expressed my concerns to my 2nd midwife and she referred me to this trusted

informative article

which states "The infusion [red clover blossoms] prevents and eases the constipation so common during pregnancy. It also strengthens the liver and improves appetite, especially when morning sickness is a problem. And it relieves anxiety." Red Clover, like alfalfa, contains chlorophyll and has been called by herbalists a "God given remedy". These flowers are used in folk medicine as a cure for any cancerous lump or tumor and its alkaline qualities purify the blood. It is used to treat infertility and the generous amounts of minerals, proteins, antioxidants, and phytoestrogens in red clover restores health to the entire reproductive system (great for men too!). Red Clover is an excellent herbal source of calcium, chromium, magnesium, phosphorus, and potassium. Plus, it is valued for keeping breast milk rich and our breasts healthy!
Alfalfa: Called the "king of plants", this herb is supremely rich in vitamins and minerals including iron, calcium, magnesium, phosphorus, sulfur, chlorine, sodium, potassium, silicon, and trace elements. It has 8 essential amino acids and the highest chlorophyll content of any plant. Alfalfa help aids in relieving morning sickness, prevents anemia and hemmorhaging. Midwives often recommend Alfalfa instead of an iron supplement to help us mamas build red blood cells. Alfalfa also contains a little known, but very important, vitamin – Vitamin K, which helps with blood clotting needed for mama & baby after birth.
Peppermint: Mostly used in this tea for its soothing flavor, Peppermint is also helpful for alleviating symptoms of heartburn so common among pregnant mamas. It is also good for all digestive problems, expels stomach & colon gas, promotes relaxation, cleanses & tones the body and it can be used instead of aspirin for headaches.
Dandelion Leaf & Root:

This amazing herb is one I decided to add into the mix to create a more potent pregnancy tea after

reading this article and doing more research

. Both the leaf and root of the Dandelion is very nourishing for the liver, which is critical during pregnancy. A lack of strong liver function is connected to morning sickness, hemorrhoids, constipation, heartburn, indigestion, lack of energy, headaches, and mood swings. Dandelion is rich in many nutrients, vitamins and minerals such as calcium, iron and vitamin A. This plant

helps control blood pressure by reducing excess fluids in the body as well as by the presence of mannitol, a substance commonly prescribed in Europe for hypertension.

Dandelion c

ontains all the nutritive salts for the blood. It restores and balances the blood so anemia that is caused by deficiencies of these blood salts disappears. It also contains bitter compounds that enhance the efficiency of the body's eliminative and detoxifying functions. These compounds help restore normal liver function, increase the production of digestive fluids and enzymes, particularly bile, increase the flow of urine and have a laxative effect… all very important functions that should be in good working order during pregnancy! Finally, this amazing weed enriches breast milk in nursing mothers.

Oatstraw:

Another herb I added into the mix, Oatstraw

is an excellent herbal source of magnesium

. Magnesium deficiency has been linked to menstrual disorders, irritability and poor calcium absorption.

This herb has been used to treat hysteria, calcium deficiency, nervous disorders, urinary tract infections and osteoporosis.

It is useful for bone building (vital for mama and baby) and is a nerve tonic.
Making the Tea Yourself
Wow, was all that amazing or what?! I'm sure you are ready to order all those herbs like I was after learning all that. I bought everything except the Red Clover Blossoms from the Bulk Herb Store. I love their prices, excellent customer services, fantastic quality and all the ingredients you need are organic! The Red Clover Blossoms I bought from Mountain Rose Herbs because it has primarily blossoms, while the Red Clover Tops at Bulk Herb has both blossoms and some leaves.
Another good thing to remember is that you don't need to wait until you are pregnant to start drinking this wonderful tea. Start drinking it now to heal and prepare your body! Plus, this is a great tea to share with your man and older children to increase overall health for the whole family.
If you decided to buy everything in bulk you can just mix what you need and have enough to last through your pregnancy and even through nursing. You will have extras of each herb, but they can be used for other things.
Second option is to simply mix everything together with only some herbs leftover, which is what I did. I made a HUGE batch of it about 2 years ago when pregnant with Tobi. I had so much leftover that I was able to give some away as gifts to other pregnant mamas… yeah, putting this tea in a dressed up jar made wonderful gifts!
Third option is to simply order Bulk Herb Store's already made pregnancy tea if making your own seems too much for you right now. Either way, you will still be getting important vitamins and minerals needed for a healthy pregnancy, labor, birth and postpartum health!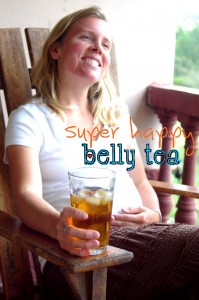 Super Happy Belly Tea

4 parts Red Raspberry Leaf
4 parts Nettle Leaf
3 parts Red Clover Blossoms
3 parts Alfalfa
2-3 parts Peppermint
1 part Dandelion Leaf (optional)
1 part Dandelion Root (optional)
1 part Oatstraw (optional)


Mix everything together in a large bowl or pot. Store in airtight containers or jars in a dark, cool place.
Hot tea: add 2-3 teaspoons of the premixed herbs to 1 cup of boiling water. Let it steep for up to 10 minutes, cover the mug. Strain and add raw honey or stevia to taste.


Cold tea: To make a pitcher of cold tea, add 10-12 teaspoons of the premixed herbs to 8 cups of boiling water. Let it sit for a while (30 minutes up to 4 hours for maximum absorption of the vitamins & minerals), strain and add raw honey or stevia if desired. Discard the used herbs, and put the tea in the refrigerator to drink over ice or it can be reheated.
Herbal ice cubes:
Pour finished and cooled Super Happy Belly Tea into ice cube trays. Put in the freezer. Pop them out when frozen and put some in your quart of pregnancy tea for the day.
I love this method because I can iced my tea using herbal ice cubes and it won't dilute the flavors!
My midwife said to drink at least a quart or more everyday and to drink it slowly throughout the day. That's hard to do when this tea is so good and I often drink more than a quart a day!


Also, it has been said that it is best to start drinking small amounts during your first trimester, then increase it to a quart by your second trimester and to drink it through the third trimester. If you have been drinking this tea before you became pregnant, don't stop drinking it! Simply decrease the amount to a half quart or so until you are in your 2nd trimester and increase it back up to a quart or more each day.
Hope you will enjoy this tea as much as I did!
Also, the links above are my affiliate links and I will earn a small commission if you decide to order the herbs through those links (no charge to you!). Thank you for reading this and supporting my family through your purchases!