Good morning everybody!! Rise and shine! Don't you remember your mom telling you that when you were a kid? Mine did and still does every once in a while :o) LOL!
Here's a delicious and simple smoothie to get you on a good start for the brand new day. I make this whenever there are organic strawberries available, which isn't often and LOVE it. There is just something wonderful about the combination of mangos and strawberries that I find very addicting! Right now mangos are slowly going out of season and costing more… boohoo! At the farmer's market yesterday I only saw two stands that had mangos and couldn't buy my usual 8-10 pounds worth of mangos… oh yeah… I buy a lot! Thankfully I froze several bags worth of mangos for the off season and dehydrated some to make Mango Butter (recipe coming soon!!). Now, I just need to find a consistent source for organic strawberries as they are in season pretty much year around here. I want to grow my own… someday :o)
Now, go make yourself this delicious, creamy smoothie to brighten up your day… anytime of the day!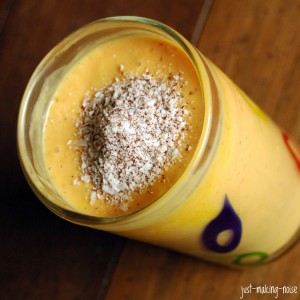 Rise & Shine Breakfast Smoothie




2 1/2 cups kefir, yogurt or buttermilk

1 whole mango, fresh or frozen

2 handfuls strawberries, fresh or frozen

1 or 2 frozen bananas

1-3 Tbsp. raw honey

Spoonful of coconut oil

1 Tbsp. freshly ground flaxseed (optional)
Raw egg yolks (optional)

Coconut flakes




Pour your choice of cultured dairy into the blender. Add in mango, strawberries, bananas and honey(add flaxseed and/or egg yolks if desired). Give it a whirl till smooth and while it is blending… add coconut oil and let it run for a minute more. Pour into a tall, large glass and top with coconut flakes.



Sit outside in the sun and enjoy your smoothie while getting in your Vitamin D dose for the day! Have a GREAT weekend, y'all!!