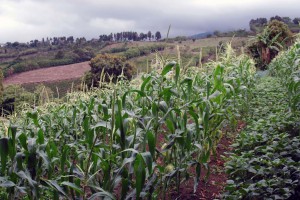 San Luis de Grecia, Alajuela
Feria Orgánica Primer domingo del mes

(Organic market 1st Sunday of each month)
2494-4523 / 2444-2967 / 2444-0819
Email: isagutie@hotmail.com
•     •     •     •     •     •
Yesterday me and my family (minus my dad) all went for a drive looking for this Feria Organica several miles outside of Sarchi.  It was a beautiful drive as the clouds were rolling around and rainy season was getting ready to start. Thankfully we drove on patiently (because we weren't sure how far to go and where it was… we would've easily turned around and gone home) and found the farm.
I can only describe this farm in one word:  Beautiful!
We drove past the ISMA Sauna & Spa, horses to ride and then into the farm.  The first thing we saw was a duck coop with several ducks and their ducklings, then walked up to a rancho (open-air shed) where they were selling their produces freshly picked off the fields.  Next to the rancho they have a vivero (nursery) with beautiful flowers and plants tingling our noses with their wonderful smells.  They also had a cocina (kitchen) where they made typical Costa Rican dishes, but spiced up with their own veggies and farm-raised conejos (rabbit).
We were able to join a group to tour the farm lend by the owner and he shared with us what he does to grow everything organically.  He focused a lot on good compost to fertilize the soil and keep the bugs down.  It was a very good learning experience for me!  I kept saying to Jon, "Dad should'
ve come!", but he decided to stay home and build my chicken coop (thanks Dad!).  We will be going back again very soon WITH my Dad, I know he will love it.
After the tour we enjoyed lunch in the lively cocina.  Jon tried the rabbit with his Casados (typical beans and rice dish) and it was very tasty.  Like chicken, only tastier.  Then, of course, I had to do a little shopping at their veggie stand.  I bought napa cabbage (I've been wanting to try kimchi, a Korean sauerkraut), carrots, onions, leeks, curly endive (or chicory), green beans, peppermint plant, duck eggs and mora (blackberry) wine (NOTE: I usually do NOT like wine, but I enjoyed the blackberry wine…very sweet, smooth and chest warming).
They sell their organic produces in La Feria de Grecia (Grecia Farmer's Market) if you are in the area.  Also, the wine is hand-made by their neighbors, non-pasteurized and no preservatives.
When we got home… I made a big salad using the curly endives and carrots along with other organic produces that I bought from the market in San Ramon.  The curly endives added a wonderful, spicy taste and tasted almost like horseradish.  It is so good to know where and how your organic produces are being grown.  We had a wonderful time and would love to go back again!  I would like to check out the spa… I really could use a good back and shoulder rub  :o)