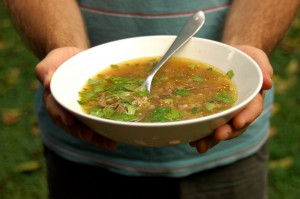 I am happy to share with you a gut-happy, nourishing soup that we all enjoyed very much… even my girls slurped up their portions! It left us feeling satisfied and comforted.


Some of you might be wondering, but it's not hard to find oxtail… well, at least around here! Latin Americas love oxtail soup and you will often have to go early to your favorite butcher to get that one oxtail before someone else takes it. We even tried to have our butcher save us the next oxtail after two tries, but that wasn't possible for him to remember. So, thankfully we were able to snatch some up early one morning after it was freshly removed from the carcass. Yeah, it's that fresh… and no… it doesn't smell bad because they bring in a fresh carcass 3 or 4 times a week! So, we know we are getting fresh meat no matter what and grass-fed too!


Now, normally… most people use barley in their oxtail soup, but I didn't have that… but I had a small bag of Farro (also known as Emmer). This grain is an ancient grain that is making a comeback in the states. I found it at a grocery store when we were up in La Fortuna celebrating our anniversary. It was a bit pricey, but I wanted to try it and that was over 8 months ago!


I'm so glad I bought it and saved it till now!


The grain has a wonderful nutty taste that is different from wheat or spelt. We loved how it added a nice flavor to the oxtail soup. It was a nice change from rice or noodles that we sometimes have with our soups. I would like to try using grains once in a while in our soups to add a variety. I'm always using the grains for making breads and baked goods… why not throw it into something savory like soup?!


Also, I've made this soup with and without the wine. I find that using the wine adds a richer flavor, but the soup still tastes excellent without for those who wish not to use the wine.


For those who are not sure where they can find oxtail… locate a local butcher in your area OR a local farmer that sells grass-fed meats. You will find one somewhere, I'm sure… BUT remember, there's only one per cow… so you must find the one before its gone!





Oxtail Farro Soup

4 pounds fresh oxtail

water

1/2 cup red wine

1/4 cup raw vinegar

2 onions, peeled & chopped

2 carrots, peeled & chopped

2 celery stalks, peeled & chopped

fresh thyme sprigs, tied together

1-2 tsp dried peppercorns, crushed

generous pinch red pepper flakes

1 cup farro, roasted in the over & soaked at least 7 hours

sea salt & pepper

chopped parsley for garnish

Place oxtail in a baking pan and bake at 350 F for about 1 hour or until well browned. Transfer oxtail to a stainless steel pot and pour out grease.



Add wine and a little water to the baking pan and deglaze by bringing it to a rapid boil, while stirring the loosen any coagulated beef juices in the pan.

Pour the liquid into the pot and cover all the oxtail with cold water. Add raw vinegar and let it sit for about 30 minutes. Bring to a boil and skim off any foam. Add thyme, onions, carrots, celery, red pepper flakes and peppercorns. Cover and simmer for at least 24 hours.


Remove oxtail and allow to cool. Strain 3 quarts of stock into another pot and add soaked farro. Reserve any extra broth for other uses. Bring to a boil and simmer for about 30 minutes or till farro is tender.


Meanwhile, pick the meat off the bones and chop finely if needed (mine pulled apart very easily). When farro is tender, add the meat. Season with sea salt & pepper generously.


Serve in bowls and garnish with chopped parsley.




I really hope most of you out there will be adventurous to try this soup! Just think… the tail is full of meaty goodness and the bones with fantastic minerals… all in one pot! So nourishing and excellent for your gut.


This post is part of Real Food Wednesday hosted this week by Kelly the Kitchen Kop and I've also included it in the Pennywise Platter Thursday @ The Nourishing Gourmet.