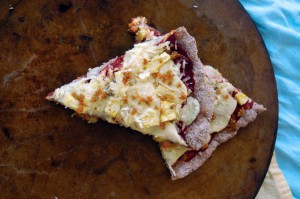 Woohoo! I am on a roll with my Honduran sourdough buddy… we've made crackers, pancakes, tortillas and muffins/bread… now pizza! I've been making sourdough pancakes almost every Saturday now and I always have to double the batch. My oldest daughter, Naomi, CHOWS down at least 2 or 3 good size pancakes. They are so good! Crackers are becoming part of my weekly routine and I'm having fun experimenting with different flavors.
Now, back to pizza…
I was very pleased with the crust and how tasty it was without it being overpowering. I often find that whole wheat crusts can steal the flavor away from the toppings, but not this one! It was sweet with a slight tang. Usually, my girls aren't big fans of pizza… but they sure loved the sourdough pizza!
While mixing everything together for my first crust… I was taken back by how easy it was that I took advantage of the time, extra sourdough starter and made TWO more pizza doughs to freeze for future "quick" fresh pizza. I was SO excited when I saw how much the dough had risen… my sourdough buddy is doing a fantastic job!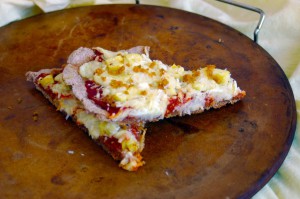 Maybe some of you might remember me telling you about a particular italian restaurant that we went to in Puerto Viejo… oh man… beyond delicious italian food… Anyway, I mentioned that we ordered a Caribbean pizza, but didn't say what the ingredients were. Well, I am about to reveal them to you today:


Pineapple, jalapenos, coconut and mild cheese… yep, that's all. Oh, I think it was supposed to be served with ham, but we don't eat pork and had the pizza without it. It was so simple, yet unique and delicious. This is one of our favorites!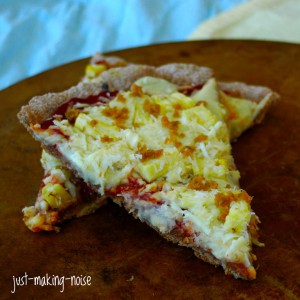 Caribbean Sourdough Pizza
1 recipe of sourdough pizza crust
olive oil
tomato paste
sea salt
garlic powder
fresh pineapple, chopped
2 jalapenos. chopped
ham, chopped (optional)
1-2 cups coconut flakes, fresh or dried
shredded cheese, preferably mild
Mix together your dough for the pizza crust and follow the instructions for prebaking, if necessary.
Lightly drizzle olive oil on the pizza crust and spread tomato paste (you can thin it with a little oil or water if you want a thinner sauce). Sprinkle with salt and garlic powder. Lightly top with cheese.
Top with pineapple, jalapenos and optional ham. Mix together coconut flakes with the rest of the cheese and sprinkle on top.
Bake in the oven on a hot pizza stone. Pull out when done and ENJOY!


I'm sure you are wondering where are the jalapeno peppers… well, I didn't have any fresh jalapeno peppers when making this pizza, but I had homemade lacto-fermented jalapeno paste that I used instead. I sprinkled that on AFTER the pulling the pizza out of the oven to preserve the nutrients and probiotics in the paste ;o)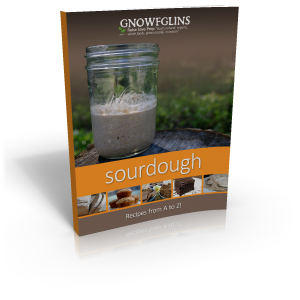 I am really enjoying the Sourdough eCourse and love how simple it is! But I am even more thrilled about the Sourdough A to Z eBook.


Why?


Because I don't have to watch the videos! They transcribed them and put the text in the eBook. Also, another bonus, the entire eCourse is all in the book. So, if you don't want to spend the time (or money) taking the class or are already familiar with making sourdough and just want recipes… this is the book for you!


I know there are many of you out there who have not yet joined in with me on my sourdough journey. I hope you will change your mind soon because you are missing out! Have a great weekend everybody!


What are your favorite pizza toppings? Got any unique suggestions? Next I will be sharing with you sourdough cornbread and chocolate cake! Like I said earlier… I'm on a roll!