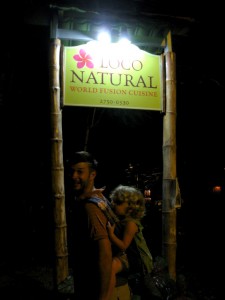 Now, here's another delicious place using fresh, organic, real food ingredients. Remember, this is a hippie's paradise! If you haven't, make sure to read about Bread & Chocolate!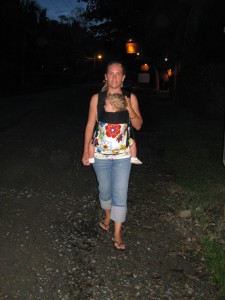 So, we decided to walk to the restaurant thinking it was only short distance away… yeah right! We ended up walking for about 15-20 minutes in the darkness to get there. Much safer to ride the bikes! But it was good exercise and yes, we walked all the way back to our cabin afterwards. What more can I say? It was a South Caribbean adventure! LOL!


Anyway, we got there and loved the place. The décor, mood & feel of the place was very colorful, artistic and yet pleasantly mellow. Unfortunely, I wasn't able to get good pictures of the food because it was too dark. They are only open in the evenings and the lighting wasn't the greatest for taking pictures, but believe me… the food was very good!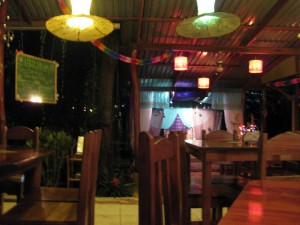 Their menu is very simple yet creative. You choose 7 different sauces: Tandoori Coconut Sauce, Tamarind Sweet & Spicy, Thai Citrus Peanut Sauce, Caribbean Madras Curry, Mexican Smoked Chipotle, Malaysian Guayaba Green Curry or Garlic Butter Sauce served over chicken, fish or veggie stir fry or shrimp. They all are served with brown rice and a fresh, delicious tropical salad. There are other choices, but this is their signature stuff :o)


We all chose different sauces and it was great to try them all. Everything was fresh and served with a gourmet flare. I had the Caribbean Madras Curry while my hubby got the Malaysian Guayaba Green Curry… both with chicken. My in-laws ordered the Mexican Smoked Chipotle and Thai Citrus Peanut Sauce. My favorite was my hubby's sauce… it was deliciously sweet with a nice kick and made my mouth dance!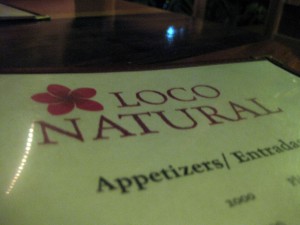 Next we ordered dessert… of course! Their selections of dessert that night was Coconut Cake, Brownie and Passion Fruit Cheesecake. We got all three and shared them… the winner was the Passion Fruit Cheesecake… OH. MY. SWEET. GOODNESS! I must find a way to make it in my kitchen!


Overall, it was a pleasant evening with a wonderful ocean breeze. We all highly recommend this place and go early… the place fills up fast!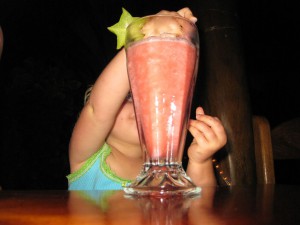 Naomi enjoying her fresh fruit smoothie… it was bigger than her and she slurped it all up!