I am very excited to share this delicious (and by far, our favorite) ice cream dish for my first "Sweet Wholesome Wednesday" post. The honey-sweetened almond ice cream combines perfectly with the sweet tartness of the blackberry sauce. I actually came up with this while trying to fall asleep one night. I was very restless and kept thinking about a lot of things, but then I suddenly had a dream about almonds and blackberries… I knew instantly what I was going to make the next day and was able to fall asleep quickly.
So, of course, the next day I made my dream come true! It is so dreamy delicious! Like I said earlier… it is our favorite ice cream I've made so far (and I've made several flavors!). You can't enjoy this ice cream fully without the sauce. If you don't have blackberries… try raspberries or strawberries! Blueberries would be great, but won't have that tartness that we fell in love with. Try it this weekend and let me know what you think!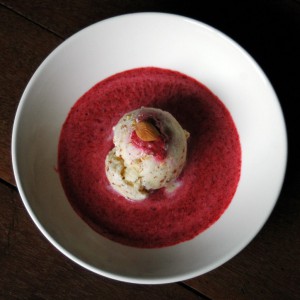 Honey Almond Dream w/ Blackberry Sauce




3 egg yolks

1/4-1/2 cup raw honey

1 Tbsp. almond extract

1 Tbsp. arrowroot

3 cups whole milk or cream

1/2 cup whole almonds

Ice cream (about 1 quart):

Blend everything in a blender till mixed. Pour into a ice cream maker and process according to instructions.




No ice cream maker? No worries, simply pour into a plastic container and put in freezer. When fully frozen, take it out and let it thaw a little. Put it back in your blender and blend till creamy.




1 12 oz package frozen blackberries

1/2 cup raw honey

1-2 cups water

Blackberry sauce (about 4 cups):

If you have fresh berries… simple freeze them before making the sauce. It is important because the frozen berries keep the sauce thick.




Place partially thawed blackberries in food processor with raw honey and process till a thick paste forms. Gradually add water until desired consistency is obtained. I only used 1 cup because I liked the thick and "creamy-like" texture it gave me.